Naugy Girls Tennis undefeated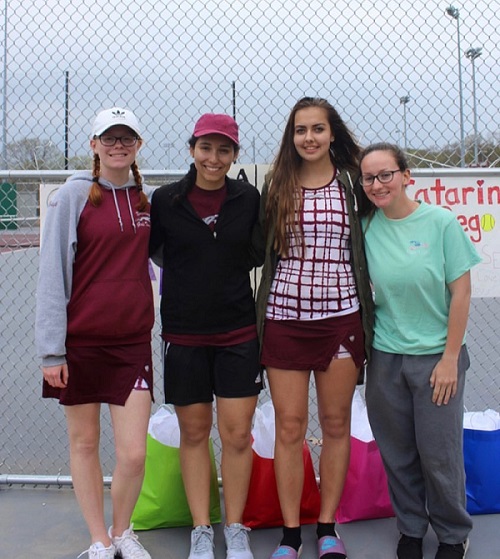 The Naugatuck Girls Tennis Team had another phenomenal, undefeated season this year. Their record is 17-0, ranking first in the league.
The team is second in division M, only because the girls lost to Pomperaug, 1-6. The loss does not count towards their ranking in the league because Pomperaug is not a part of the league; they are just in their division.
The team lost all of their singles players this year because they all graduated. The outstanding season was not doubted, but unexpected.
"To be perfectly honest I didn't have any set this year because we lost all of our singles. I didn't know how good we were going to be. I knew we would be good; we're always decent. But I had no idea we would come back and repeat an undefeated regular season in the NVL again and make it to the finals again," says coach Jose Sendra.
Senior captain Sabrah Cegielski also has a few words to say about the season this year: "I feel like we did outstanding. For everyone who was not competing last year, we are phenomenal."
The girls are coached by Jose Sendra, who is a Spanish teacher at Naugatuck High School, with help from Mrs. Stephanie DeLuca, who is also a Spanish teacher at Naugatuck High School.
Coach Sendra has been coaching tennis for about nine years, and he has been coaching sports in general for about twenty-four years.
Sendra never taught the team special tactics. The girls just practiced almost every day they didn't have a meet, and when the courts were unable to be used, the team still conditioned.
He also showed the girls tennis videos to help with their technique. A lot of the girls liked the videos because they seem to help a lot.
Our first, second, third, and fourth singles are senior Sabrah Cegielski, senior Catarina Rego junior Christina Rego, and junior Yahna Ancheta. Our first and second doubles are juniors Brielle Behuniak and Hailey Russell and senior Natalie Paradise and junior Abby Lariccia.
Our third doubles were originally played by senior Alison Bodyk and junior Adriana Moreno. About halfway through the season duo split up, and third doubles ended the season being played by sophomore Ashley Antunes and Adriana Moreno.
One of the most memorable moments of the season was when third doubles battled back from a 4-7 match and won 9-7 against Seymour. The team, as a whole, won 6-1.
The girls never were intimidated and they never gave up. The duo saw their weaknesses and worked around them to win the next five games.
"They were down by a lot and battled back and won. I want them to know that they don't have to just quit when they're behind they can keep pushing and pushing and pushing and they can do it," says Coach Sendra, who is extremely proud of how Antunes and Moreno played.
The girls are always motivating each other to do their best, and that helps a lot for the people that are playing on the courts.
Captain Sabrah Cegielski says, "I cheer everyone on, even if I lose I stay positive for everybody." This goes for everyone on the team. Every girl is always so supportive of everyone and even if they lose, they help motivate others to the best of their ability.