The Greyhounds are having an explosive season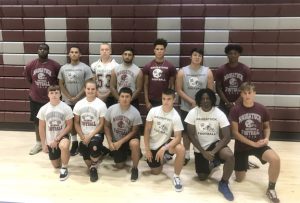 The Naugatuck Greyhound varsity football team, headed by coach Dave Sollazzo, are off to a great start to the 2019 season as they sit atop a 5-0 record heading into this Friday night's game against Torrington High School. 
Led by senior quarterback Jay Mezzo, the offense has looked explosive while the defense has returned to similar form as last year's team who ended up with a record of 9-2. 
The team has had a few key seniors return on both sides of the ball for this year's season. These players include but are not limited to: Jay Mezzo, Malachi Gattison, Isaiah Williams, Herve Tshibamba, and Jeff Schebell.
As of now, senior Jeff Schebell leads the team in all-purpose yards with 368 yards, while junior Aaron Smith has racked up 24 tackles, which leads the team. 
Through their first five games, the Greyhounds have only given up 31 points on defense, while putting up 214 points on offense. Through these first five games, the Greyhounds have beaten Wolcott by a score of 36-0, Crosby 53-0, St. Paul Catholic 43-25, Oxford 43-6, and Kennedy 38-0. 
"I believe our team chemistry and our ability to trust each other is a big reason why we are undefeated this season. I am able to rely on every player on the field and know that they will do their job," said Jay Mezzo about the 2019 team after losing a large group of seniors last year.
"Losing such a good senior class affected the depth we have on our team. We've had to move some people around at different positions, but all of our players are willing to do whatever is necessary to win." 
These sentiments from Mezzo have most definitely been backed up by the team's play thus far. 
After this week's game against league opponent Torrington, the Greyhounds will host Seymour and go to Holy Cross High School the week after. The final scheduled game of the season will be at home against their rival Ansonia, who is currently 6-0.