Naugy volleyball wins NVLs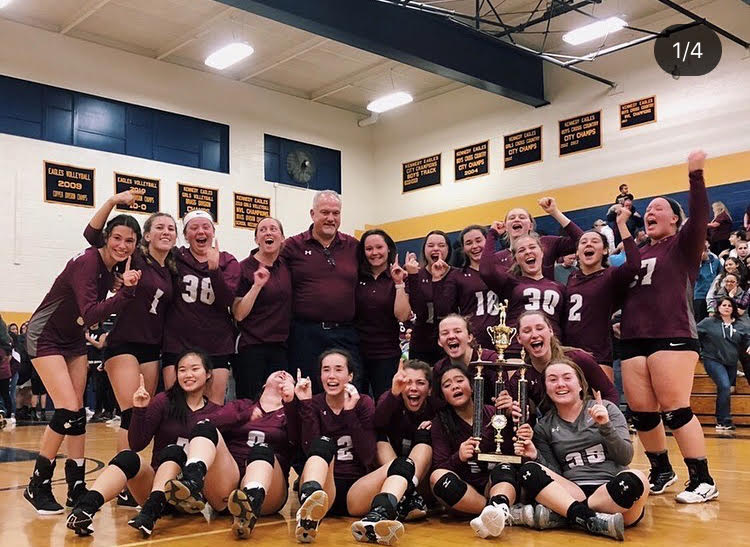 The Naugatuck Greyhounds volleyball team enter the NVL championship at 19-3. In the Naugatuck Valley League, the Greyhounds stand at 17-2, the two losses coming from St. Paul Catholic and Seymour. The two out of league games for the Greyhounds resulted in  a win beating Pomperaug and losing to East Haven.
The Greyhounds are led by four seniors: Brielle Behuniak, Yahna Ancheta, Jordyn Hunt, and Hailey Russell. These four are the leaders of the team and they do an amazing job at helping underclassmen to play to the best of their abilities.
The Seymour Wildcats enter into the NVL championship undefeated, only losing two sets during the regular season both coming from Naugatuck. The Wildcats are led by Katherina Kucsera. Victoria Sampiere, Ariana Deljanin, Stephanie Ferrara, Kolby Serwich, Faith Rousseau, and Jenna Baxter. 
"Seymour is a very good team and they have won many NVL titles. We were the only team during the regular season to win a set against them so yes, there are some nerves, but we are still very confident in ourselves," said Brielle Behuniak, senior Greyhound.
Confidence was key for the Greyhounds and confident they played. They attacked first, winning the first set. Seymour regrouped and won the second set with ease.
"My role is to not only help out during the game and score points. It is just as important to help others while we are down. If someone made a mistake I would motivate them and help them regroup in order for the team to bounce back," said Greyhound captain, Hailey Russell
She spoke these words of truth as the Greyhounds bounced back and fought hard to win the third set. But then again, the Wildcats won the fourth set and carried their momentum into the fifth and final set. 
Jordyn Hunt told us of her strategy on how to stop the Wildcats dynamic duo of Kolby Serwich and Faith Rousseau.
"They did not always put the balls in the same spot. For us, we had to adjust and rotate in order to cover the holes as well as try and tip the ball up front".
All the hard work and effort the Greyhounds could muster were going to be put to the test in the fifth set against the Wildcats. A very hard fought fifth set resulted in the Greyhounds becoming the NVL champions, the first time since 1998.
"It was surreal. Our team chemistry was amazing throughout the entire and all are hard work came down to this moment. I have to give credit to the crowd though. If it was not for the support then I don't believe we would've pulled it off," said senior yahna Ancheta of the memorable win.
The Greyhounds now are in the Class L state tournament and have a bye for the first round. They will either play Joel Barlow, the defending champions, or E.O. Smith who are the 24th seed.