NHS says good bye to Ms. Wallace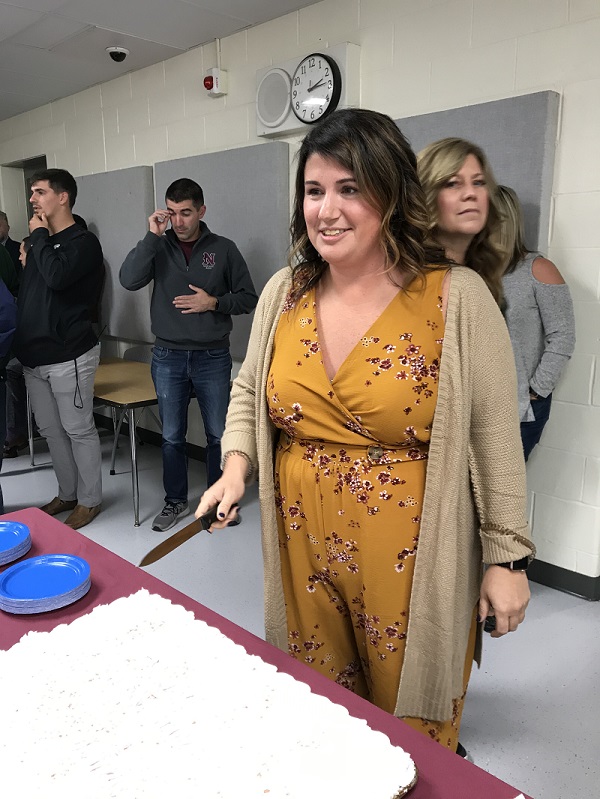 Naugatuck High School is wishing Ms. Wallace good luck as she continues on her journey. She will be continuing her duties as assistant principal at Avon Middle School beginning this month. 
When interviewed by The Greyhound News Ms. Wallace got choked up talking about the students she's built a relationship with and the teachers that have become her friends.
"The thing I will miss the most is definitely the kids, the students, even the ones that don't love me. I'll miss the people. I love being here, it's not that I want to leave, it's that an opportunity came up much sooner than I expected," she said.
Though she has only been here for a year and a half, Ms. Wallace says she's been impacted by the students that walk through the high school's doors everyday. She's learned so much in such a short time.
"I learned the power of community and the power that the connection between the school," she tells the Greyhound News.
She was astounded by the amount of community support the new CNA course received this year from parents, families, and local community members. She acknowledged Naugatuck's passion for helping one another. 
"Whether I'm here or not here, the work that I've done here and I think my presence here has been centered around relationships. Maintaining and continuing that, which fit really well with the culture here, like people take care of each other here, people get the importance of knowing how you make someone feel in the context of a school setting, so just the importance of that and carrying that forward in life," she said.  
When asked what one last thing she wants students to know before she leaves she joked, "I didn't require the lights to be on during homecoming last year! It was an issue with a generator that forced them to be on. And I did not single handedly change the roasts for the pep rally; it was a collaborative, administrative decision."
The Naugatuck High School students are saying goodbye and continuing to wish her the best for her career. 
Junior, Jasmine Braziel says, "Everyone, including myself, that she's impacted will miss her, even the students who pretend not to heed her advice. We know she will make a huge impact on the students at Avon. I want to thank her for everything she's done and wish her lots of good luck!"