"Our enemy is right here!" Why Americans should stand in solidarity with Iranian citizens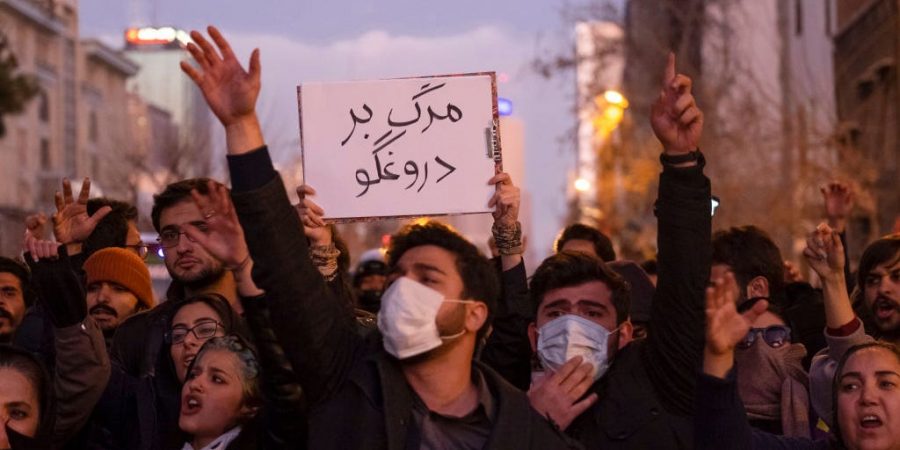 Belonging to the number one military power in the world, it is ignorant of American citizens  to be fearful of Iranian "escalations". 
On January 3rd, Iranian general Qasem Solelmani was killed in an airstrike on Baghdad International Airport in Iraq. Secretary of State, Mike Pompeo, recently claimed without evidence that Solelmani had been "actively working" on an "imminent attack" against the United States. 
"In the past, the United States has credited Soleimani's militias with combating a U.S. enemy in Iraq, the Islamic State militant group. Soleimani's Quds Force was a division of Iran's Revolutionary Guard, widely believed to support many terrorist groups, such as Hezbollah." – NBC  
He has since backed down on that statement gradually. 
As our president approves missile strikes on public Iraqi airports and vows to destroy Iran's cultural sites- which is literally promising to carry out multiple war crimes, Iranian leaders and even those who belong to Hezbollah- a group deemed as terrorists by the United States- call orders to protect American civilians and only "go after" military sites. 
What we should be concerned about is Iran's militant police state, which in the past has been able to manipulate its citizens- who are fed up with being lied to and used as pawns in both military propaganda and our newfound international conflict. 
On the eighth of January, a Ukrainain airplane carrying 176 people was shot down via missile by the Iranian military, who initially stated the crash was caused by a technical error in the aircraft itself. Ukrainian president Volodymyr Zelensky then called for a full investigation on the crash. 
On January 10th, "Ali Abedzadeh, head of Iran's civil aviation organization, tells a televised news conference that he is "certain that no missiles hit the aircraft," according to the Washington Post. Iranian government spokesman Ali Rabiei says the US is making the events even more painful for bereaved families by claiming the airliner was brought down by an Iranian missile." -John Detrixhe, REVERSAL. 
The very next day,  Iranian President Hassan Rouhani posted on twitter, "Armed Forces' internal investigation has concluded that regrettably missiles fired due to human error caused the horrific crash of the Ukrainian plane & death of 176 innocent people. Investigations continue to identify & prosecute this great tragedy & unforgivable mistake," confessing it was, in fact, the Iranian military responsible for the crash. 
Since then, the IRGC (Islamic Revolutionary Guard Corps), a branch of the Iranian military,  has taken full responsibility for the crash, with aerospace division head Gen. Amir Ali Hajizadeh claiming he "wished [he] was dead," upon learning of the downed plane. 
Imaginably, it is not the military suffering the consequences of its actions. Under both crippling U.S. sanctions and their own oppressive government, the citizens of Iran are and have been struggling for a long time- and not just to eat, but to be heard as well. 
Back in November, Iran broke out into a large civil unrest due to fuel prices skyrocketing at 300%, an increase leaders blamed on US sanctions. During the protest, those on the streets were shot at, brutally beaten, and tear gassed by police.
 In retaliation to the protests, the Iranian government shut down internet access for more than a week. "Gen. Ali Fadavi, the acting commander of the Revolutionary Guard, blames the uprising on Americans and exile groups, and alleged the internet shutdown was designed to limit outside influences supporting the protestors." -Victor Skinner, The American Mirror
The National Council of Resistance of Iran, a group that describes themselves as a "democratic political coalition, founded in Tehran in July 1981, which has steadfastly sought an end to religious dictatorship, and promotes a free and democratic Iran," released videos from the protest which depict the unnecessary cruelty brought upon civilians. 
 "It was the fear of such footage reaching the outside world that prompted the authorities in Iran to shut down access to the internet for more than eight days earlier this month, as protests against a sharp rise in the price of petrol spread across the country" -Jiyar Gol, BBC
The media released depicts the astonishingly cruel way the regime went about "rounding up" the protesters. "One video released by NCRI appears to show a young protester in a skirmish with national security officers, who bludgeon him with an ax and fire at least five shots at close range. Hysteria broke out at the sound of the gunshots, with women screaming as protestors quickly cleared the area, where a fire raged in the street." – Victor Skinner, The American Mirror
Ignorant Americans who put slander on the entirety of Iran do not realize that actual people besides leaders whose sole responsibilities are to be instigators over social media, such as General Ali Favadi- who claims Americans were only mad about Iran's internet block because "the internet is the channel through which Americans wanted to perform their evil and vicious acts live there" reside in the country. Innocent people who desperately need to be heard. 
"The price of petrol is rising, we are poorer," protesters in Shiraz chanted in one video. "The supreme leader lives like a God. We, the people live like beggars," said people in Malard, near Tehran in another." -Jiyar Gol, BBC
In the midst of people being shot, beaten and gassed, those attending the protest were also detained randomly. Most of those taken in, including children, had been those belonging to extremely impoverished communities. 
"The extent of the unlawful detentions is so large that the security forces have turned grade schools in many towns and cities into detention and torture centers, which is a clear violation of international conventions," the NCRI reports. 
"Video footage of security forces transporting handcuffed and blindfolded protesters into and out of the Quds elementary girls school in Tehran has circulated on the internet." – Victor Skinner, The American Mirror. 
The same vicious acts committed by police and the armed forces of Iran from this protest- which I could go on and on about- are echoed in the most recent one, which was formed by civilians who were angry at their military for shooting down a jetliner filled with innocent people. Again, they were shot at. They were beaten. They were silenced. The reality is, until Americans inform themselves correctly and recognize the difference between corrupt leaders and innocent civilians, the corruption beyond the safety cushion of our border- and even within it- they will not have the emotional capacity, nor will they have the will to recognize those in need and will continue to dismiss crimes against humanity based on their ill-informed and prejudiced bias and their ability to brush off serious war-time actions as "memes."