Capitol rioter plans to sell Speaker Pelosi's laptop to Russia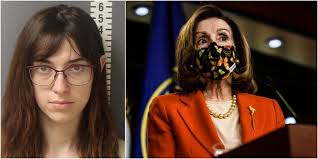 Pennsylvania woman, Riley June Willams, has been accused of allegedly stealing Nancy Pelosi's laptop during the riot that took place at the Capitol earlier this month. It has also alleged that she was planning to sell that laptop to Russia.
There are multiple sources of videos and images that confirm Williams being at the riot and leading people up the stairs to restricted offices.
A witness has claimed that Williams stole the laptop to sell to a friend in Russia, who would then be selling it to Russia's Foreign Intelligence Service.
After stealing the laptops, comments made by Williams show she was bragging about what had happened.
"I stole sh** from Nancy Pelosi" She claimed on Discord, " I don't care! .I took Nancy Pelosi's hard drives, I don't care. Kill Me."
Although it is also being said that Williams's attorney, Lori J. Ulrich, has made the claim that Willaims was not running from the government, and she did not change her phone number to hide from the Feds; she was trying to escape from an abusive ex. Williams had put a restraining order on her ex-boyfriend. Ulrich is calling her client a victim of stalking and harassment and that she was advised by police officers to change her number.
Williams is being charged with trespassing, violent entry and disorderly conduct on Capitol grounds. Prosecutors also added the felony charges of, aiding or abetting the theft of government property and obstructing, influencing or impeding an official proceeding.