Josh Hawley facing criticism after Captiol riot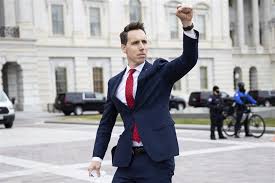 Missouri‌ ‌Senator‌ ‌Josh‌ ‌Hawley‌ ‌(R)‌ ‌continues‌ ‌to‌ ‌face‌ ‌criticism‌ ‌from‌ ‌his‌ ‌colleagues‌ ‌for‌ ‌his‌ ‌
decision‌ ‌to‌ ‌object‌ ‌to‌ ‌the‌ ‌Electoral‌ ‌College‌ ‌votes‌ ‌in‌ ‌this‌ ‌year's‌ ‌presidential‌ ‌election,‌ ‌Many‌ ‌
believe‌ ‌this‌ ‌fuled‌ ‌the‌ ‌pro-Trump‌ ‌riot‌ ‌that‌ ‌took‌ ‌place‌ ‌on‌ ‌January‌ ‌6.‌ ‌ ‌
‌
Hawley‌ ‌was‌ ‌the‌ ‌first‌ ‌U.S.‌ ‌senator‌ ‌to‌ ‌publicly‌ ‌challenge‌ ‌the‌ ‌Electoral‌ ‌College,‌ ‌followed‌ ‌quickly‌ ‌by‌ ‌
Texas‌ ‌Sen.‌ ‌Ted‌ ‌Cruz.‌ ‌
‌
Shortly‌ ‌before‌ ‌the‌ ‌escalation,‌ ‌a‌ ‌photo‌ ‌was‌ ‌taken‌ ‌of‌ ‌outside‌ ‌the‌ ‌Capitol‌ ‌building‌ ‌of‌ ‌Hawley's‌ ‌fist‌ ‌
raised‌ ‌in‌ ‌the‌ ‌air.‌ ‌
‌
Hours‌ ‌after‌ ‌this‌ ‌photo‌ ‌was‌ ‌taken‌ ‌in‌ ‌support‌ ‌of‌ ‌the‌ ‌protestors‌ ‌who‌ ‌gathered‌ ‌in‌ ‌Washington‌ ‌at‌ ‌
Trump's‌ ‌request,‌ ‌many‌ ‌raided‌ ‌the‌ ‌"people's‌ ‌house,"‌ ‌vandalizing‌ ‌and‌ ‌ransacking‌ ‌government‌ ‌
property,‌ ‌and‌ ‌terrorizing‌ ‌lawmakers‌ ‌and‌ ‌staff.‌ ‌Six‌ ‌people,‌ ‌including‌ ‌two‌ ‌capitol‌ ‌police‌ ‌officers,‌ ‌
died.‌ ‌ ‌
‌
As‌ ‌Congress‌ ‌reconvened‌ ‌later‌ ‌that‌ ‌evening,‌ ‌Hawley‌ ‌continued‌ ‌to‌ ‌challenge‌ ‌the‌ ‌election‌ ‌results‌ ‌
in‌ ‌Arizona‌ ‌and‌ ‌Pennsylvania.‌ ‌
‌
"I‌ ‌actually‌ ‌think‌ ‌it's‌ ‌very‌ ‌vital‌ ‌what‌ ‌we‌ ‌do,‌ ‌the‌ ‌opportunity‌ ‌to‌ ‌be‌ ‌heard,‌ ‌to‌ ‌register‌ ‌objections‌ ‌is‌ ‌
very‌ ‌vital.‌ ‌Because‌ ‌this‌ ‌is‌ ‌the‌ ‌place‌ ‌where‌ ‌those‌ ‌objections‌ ‌should‌ ‌be‌ ‌heard‌ ‌and‌ ‌dealt‌ ‌with,‌ ‌
debated‌ ‌and‌ ‌finally‌ ‌resolved,"‌ ‌Hawley‌ ‌said‌ ‌in‌ ‌a‌ ‌statement‌ ‌made‌ ‌to‌ ‌Congress‌ ‌late‌ ‌Wednesday‌ ‌
evening.‌ ‌
"In‌ ‌this‌ ‌lawful‌ ‌means,‌ ‌peacefully,‌ ‌without‌ ‌violence,‌ ‌without‌ ‌attacks,‌ ‌without‌ ‌bullets,"‌ ‌he‌ ‌added.‌ ‌ ‌
Since‌ ‌Wednesday,‌ ‌members‌ ‌of‌ ‌the‌ ‌GOP‌ ‌have‌ ‌condemned‌ ‌Hawley‌ ‌for‌ ‌his‌ ‌actions‌ ‌and‌ ‌his‌ ‌
rhetoric‌ ‌in‌ ‌leading‌ ‌the‌ ‌riot.‌ ‌Even‌ ‌Hawley's‌ ‌mentor,‌ ‌former‌ ‌GOP‌ ‌Senator‌ ‌John‌ ‌Danforth‌ ‌has‌ ‌
denounced‌ ‌his‌ ‌action.‌ ‌ ‌
"Supporting‌ ‌Josh‌ ‌and‌ ‌trying‌ ‌so‌ ‌hard‌ ‌to‌ ‌get‌ ‌him‌ ‌elected‌ ‌to‌ ‌the‌ ‌Senate‌ ‌was‌ ‌the‌ ‌worst‌ ‌mistake‌ ‌I‌ ‌
have‌ ‌ever‌ ‌made‌ ‌in‌ ‌my‌ ‌life,"‌ ‌Danforth‌ ‌said‌ ‌in‌ ‌an‌ ‌interview‌ ‌with‌ ‌the‌‌ ‌St.‌ ‌Louis‌ ‌Post-Dispatch.‌ ‌
The‌ ‌editorial‌ ‌board‌ ‌of‌ ‌‌The‌ ‌Kansas‌ ‌City‌ ‌Star‌ ‌‌came‌ ‌forward‌ ‌with‌ ‌an‌ ‌opinion‌ ‌piece‌ ‌advocating‌ ‌for‌ ‌
Hawley's‌ ‌immediate‌ ‌resignation‌ ‌or‌ ‌removal‌ ‌from‌ ‌the‌ ‌Senate.‌ ‌Mere‌ ‌hours‌ ‌after‌ ‌the‌ ‌rioters‌ ‌
stormed‌ ‌the‌ ‌Capitol,‌ ‌the‌ ‌board‌ ‌wrote‌ ‌that‌ ‌Hawley‌ ‌had‌ ‌"blood‌ ‌on‌ ‌his‌ ‌hands."‌ ‌
"Hawley's‌ ‌actions‌ ‌in‌ ‌the‌ ‌last‌ ‌week‌ ‌had‌ ‌such‌ ‌an‌ ‌impact‌ ‌that‌ ‌he‌ ‌deserves‌ ‌an‌ ‌impressive‌ ‌share‌ ‌of‌ ‌
the‌ ‌blame‌ ‌for‌ ‌the‌ ‌blood‌ ‌that's‌ ‌been‌ ‌shed,"‌ ‌the‌ ‌editorial‌ ‌board‌ ‌added.‌ ‌ ‌
"Those‌ ‌who‌ ‌continue‌ ‌to‌ ‌support‌ ‌his‌ ‌(Trump's)‌ ‌dangerous‌ ‌gambit‌ ‌by‌ ‌objecting‌ ‌to‌ ‌the‌ ‌results‌ ‌of‌ ‌a‌ ‌
legitamate,‌ ‌democratic,‌ ‌election,‌ ‌will‌ ‌forever‌ ‌be‌ ‌seen‌ ‌as‌ ‌being‌ ‌complicit‌ ‌in‌ ‌an‌ ‌unprecedented‌ ‌
attack‌ ‌against‌ ‌our‌ ‌democracy,"‌ ‌U.S.‌ ‌Sen.‌ ‌Mitt‌ ‌Romney,‌ ‌R-Utah,‌ ‌said‌ ‌on‌ ‌the‌ ‌Senate‌ ‌floor‌ ‌hours‌ ‌
after‌ ‌the‌ ‌attack.‌ ‌"That‌ ‌will‌ ‌be‌ ‌their‌ ‌legacy."‌ ‌ ‌
Up‌ ‌until‌ ‌Wednesday,‌ ‌Hawley‌ ‌was‌ ‌seen‌ ‌as‌ ‌a‌ ‌rising‌ ‌star‌ ‌in‌ ‌the‌ ‌Republican‌ ‌party,‌ ‌and‌ ‌likely‌ ‌a‌ ‌
candidate‌ ‌for‌ ‌president‌ ‌in‌ ‌2024.‌ ‌
Peverill‌ ‌Squire,‌ ‌a‌ ‌political‌ ‌scientist‌ ‌professor‌ ‌at‌ ‌the‌ ‌University‌ ‌of‌ ‌Missouri-Columbia,‌ ‌said‌ ‌it‌ ‌is‌ ‌
clear‌ ‌Hawley's‌ ‌actions‌ ‌were‌ ‌aimed‌ ‌at‌ ‌"elevating‌ ‌his‌ ‌national‌ ‌profile,‌ ‌probably‌ ‌because‌ ‌he‌ ‌is‌ ‌
contemplating‌ ‌for‌ ‌the‌ ‌GOP-presidential‌ ‌nomination‌ ‌in‌ ‌2024.‌ ‌
"Hawley‌ ‌is‌ ‌now‌ ‌closely‌ ‌tied‌ ‌to‌ ‌Trump‌ ‌in‌ ‌the‌ ‌minds‌ ‌of‌ ‌many‌ ‌Americans,‌ ‌which‌ ‌may‌ ‌prove‌ ‌less‌ ‌
advantageous‌ ‌by‌ ‌2024‌ ‌than‌ ‌appeared‌ ‌to‌ ‌be‌ ‌the‌ ‌case‌ ‌to‌ ‌the‌ ‌senator‌ ‌last‌ ‌week,"‌ ‌Squire‌ ‌said.‌ ‌The‌ ‌
image‌ ‌of‌ ‌Hawley‌ ‌raising‌ ‌his‌ ‌first‌ ‌"will‌ ‌likely‌ ‌haunt‌ ‌any‌ ‌of‌ ‌his‌ ‌future‌ ‌political‌ ‌campaigns‌ ‌because‌ ‌it‌ ‌
makes‌ ‌it‌ ‌easy‌ ‌to‌ ‌him‌ ‌to‌ ‌the‌ ‌riot‌ ‌that‌ ‌followed."‌ ‌
Hawley‌ ‌has‌ ‌received‌ ‌additional‌ ‌criticism‌ ‌outside‌ ‌of‌ ‌politics,‌ ‌including‌ ‌from‌ ‌Simon‌ ‌&‌ ‌Schuster,‌ ‌
which‌ ‌revoked‌ ‌his‌ ‌publishing‌ ‌deal‌ ‌for‌ ‌his‌ ‌upcoming‌ ‌book,‌ ‌pointing‌ ‌to‌ ‌the‌ ‌"deadly‌ ‌insurrection."‌ ‌
Hawley‌ ‌made‌ ‌a‌ ‌statement‌ ‌on‌ ‌Thursday,‌ ‌as‌ ‌reported‌ ‌by‌ ‌KMBC‌ ‌in‌ ‌Kansas‌ ‌City.‌ ‌
"I‌ ‌will‌ ‌never‌ ‌apologize‌ ‌for‌ ‌giving‌ ‌voice‌ ‌to‌ ‌the‌ ‌millions‌ ‌of‌ ‌Missourians‌ ‌and‌ ‌Americans‌ ‌who‌ ‌have‌ ‌
concerns‌ ‌about‌ ‌the‌ ‌integrity‌ ‌of‌ ‌our‌ ‌elections.‌ ‌That's‌ ‌my‌ ‌job,‌ ‌and‌ ‌I‌ ‌will‌ ‌keep‌ ‌doing‌ ‌it."‌ ‌ ‌
An‌ ‌increasing‌ ‌number‌ ‌of‌ ‌congressional‌ ‌Democrats‌ ‌have‌ ‌called‌ ‌for‌ ‌his‌ ‌resignation‌ ‌while‌ ‌Biden‌ ‌
said‌ ‌Hawley‌ ‌and‌ ‌Cruz‌ ‌were‌ ‌perpetuating‌ ‌"the‌ ‌big‌ ‌lie."‌ ‌
Hawley‌ ‌has‌ ‌fired‌ ‌back,‌ ‌blasting‌ ‌what‌ ‌he‌ ‌deemed‌ ‌a‌ ‌"woke‌ ‌mob"‌ ‌at‌ ‌the‌ ‌book‌ ‌publisher‌ ‌and‌ ‌saying‌ ‌
Biden's‌ ‌remarks‌ ‌were‌ ‌"undignified,‌ ‌immature,‌ ‌and‌ ‌intemperate."‌ ‌
On‌ ‌Tuesday,‌ ‌January‌ ‌19,‌ ‌Hawley‌ ‌also‌ ‌pushed‌ ‌back‌ ‌on‌ ‌President‌ ‌Biden's‌ ‌Homeland‌ ‌Security‌ ‌
nominee,‌ ‌Alejandro‌ ‌Mayorkas.‌ ‌ ‌
‌
Mayorkas, 61, is expected to win confirmation since the Democrats are now the majority party, but legislative aides from both sides of the aisle sait is is unclear how quickly that will occur.
Senator Hawley moved to block the fast-track confirmation process saying he was dissatisfied with Mayorkas' response to questions about Biden's immigration agenda. Hawley is a member of the Homeland Security Committee.
"Mr. Mayorkas has not adequately explained how he will enforce federal law and secure the southern border given President-elect Biden's promise to roll back major enforcement and security measures," Hawley said in a statement.
Despite the backlash that has been thrown in Hawley's direction. There are some that are not completely condemning the senator.
Matt Mackowiak, a Republican strategist, told NBC News he thinks it's "a stretch to call a procedural objection as a senator to be 'incitement.'"
"But he should have ended his objection to the electors after what happened," he added. "He will likely be ineffective in the Senate now, at least for a while. It's a shame because he's impressive and courageous. But who knows where things are headed right now?"