Madam Vice President visits West Haven, CT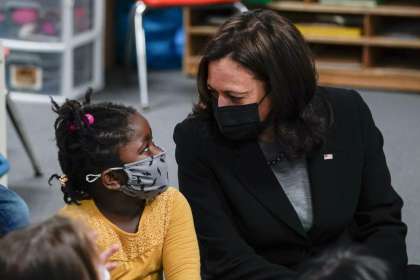 Vice President Kamala Harris arrived in New Haven, Connecticut on Friday, March 26 as a part of the national "Help is Here" tour to promote the $1.9-trillion American Rescue Plan, a multibillion-dollar effort to support coronavirus relief efforts that include a child tax credit promoted by U.S. Rep. Representative Rosa DeLauro (D-Conn).
Harris stepped off Air Force 2 at Tweed New Haven Airport to meet Governor Ned Lamont, DeLauro, U.S. Rep. Johanna Hayes, and new appointed Secretary of Education, Miguel Cardona, as well as many others.
Her first stop was to the Boys & Girls Club of New Haven, where she was introduced by Cordona.
Harris said Connecticut adopted education policies that were "very progressive, courageous and innovative." The pandemic, she said, has exposed "fault lines" in the system, and the Biden administration's Rescue Plan will have a generational impact in addressing childhood poverty.
"The connection between childcare and these other systems are so direct."
The roundtable discussion which included Harris, Cordona, and Beth Bye, the commissioner of Connecticut's Office of Early Childhood, and other political dignitaries, was closed to the press, but reporters were briefed afterwards.
Harris said the group discussed the increase in the number of reports of child neglect that rose in Connecticut amid the pandemic, as well as the mental health impact of the coronavirus crisis on children. 
From there, the group drove to the West Haven Child Development Center, and when they arrived a group of 3 and 4 year olds wearing masks were waiting.
"I want to see Kamala Harris," one girl named Gayla said.
When she arrived, Harris knelt on the ground and told the children they can be whatever they want to be. "I want to be everything," one girl declared.
Representative DeLauro later addressed the crowd of reporters and politicians, highlighting the child tax credit and aid to child care centers that are included in the American Rescue Plan.   
"Today is a celebration. We are celebrating a historic victory. It is an unbelievable effort that was made to get this bill passed," she said.
Harris "understands what parents go through… she has been so tireless in breaking down the barriers," DeLauro said.
Harris said that she was impressed by the preschoolers.
Visiting the center showed that "when a child is supported by the infrastructure that says they have beautiful brains that must be fed… these children can and will be anything they choose, and in that way, our future is bright." "We know when children don't have their basic needs [met], they can't perform. It's so fundamental, what we are talking about…. You invest in our children, you're going to get a huge return on your investment."