Celebrating Women – the woman who fights for education for all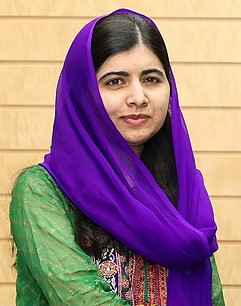 Just in time for Women's History Month, Malala Yousafzai has achieved another major accolade, landing a multi-year programming deal with Apple TV.
Malala has achieved and experienced substantially more than her age – 23 years old – would lead one to think.
In 2012, she was awarded the Mother Teresa Award for Social Justice. Then in 2014, at only 17, her inspiring story of survival, as well as her passion, drive and advocacy for women's rights in education, made her the youngest person to ever receive a Nobel Peace Prize. 
Malala has proven to be tough and adaptable, against all odds. She was born in Mingora, Pakistan, in 1997: a place where giving birth to a girl was not cause for celebration, like it would be for a boy. However, her father – who is an education activist and school teacher – "has always been [her] number one supporter," and saw something in his daughter long before the world did.
Her passion for education was evident from a young age through her grades and participation in class; however, things changed rapidly when the Taliban, a fundamentalist political group, took over their village. They put restrictions in place, prohibiting activities such as watching television and playing music. However, worst of all was that girls were no longer allowed to go to school.
From age 11, she began writing about her life under Taliban rule and submitting her work to national news stations, such as BBC Urdu. As they began to gain public interest, her work became featured internationally and she was nominated for an International Children's Peace Prize by activist Desmond Tutu.
However, months after she began gaining notoriety, there was an assassination attempt on her and two of her peers. She was shot three times, once in the head, and was rushed to hospital in critical condition. When she woke up, she was across the world, in the Queen Elizabeth Hospital, Birmingham, UK.
News of her being shot spread like wildfire and she had the support of people all over the world. After months of rehabilitation, she made a full recovery. It was this near-death experience that would set the course of her life forever.
Her family stayed in the UK, where she continued to advocate for women's rights in education, co-founding The Malala Fund in early 2013. She also spread her story by becoming an author, releasing 7 books to date.
After being top of her class in her high school, she earned a place at the University of Oxford – one of the most prestigious universities in the world – where she studied for a Bachelor of Arts degree in Philosophy, Politics and Economics at Lady Margaret Hall.
Malala's new partnership with AppleTV is a huge step forward towards change, with her aim being to bring empowering and insightful content to the screens of millions. Her contract will include creating documentaries, but also children's shows and comedies. 
With this contract, Malala will be the face of change, to all ages, for the fight for equal rights in education.
"I cannot imagine anyone who I would rather see guiding and leading children than Malala. She is an inspirational and brave woman and everyone should know who she is." said Mrs. Dymond, NHS teacher.