Celebrating Women – Alexandria Ocasio-Cortez, the woman who surprised a nation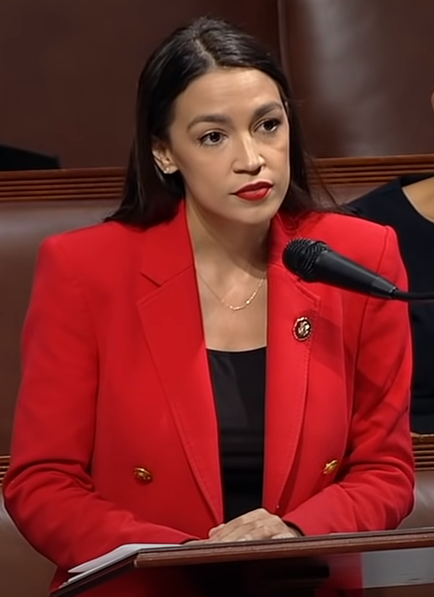 With Women's History Month upon us, it is very important that we celebrate someone who has made it her job to fight for everyone in this country.  Alexandria Ocasio-Cortez, also known as AOC, is the U.S representative for New York's 14th Congressional District since 2019 and she deserves all of the respect.
Since taking office she has participated in a climate change protest outside the office of Nancy Pelosi. It is very astonishing to see a congresswoman calling out her own party. She has also drafted and proposed a Green New Deal that would change America. AOC received a lot of support for her groundbreaking actions.
AOC grew up in a working class family. Her mother cleaned houses and her father owned a small business. In hopes of giving their daughter better opportunities, Cortez was sent to a public school 40 minutes away from her house.
Moving schools to get a quality education has influenced her greatly. "That's when I got my first taste of a country who allows their kids' destiny to be determined by a zip code that they are born in," she says on her website.
She studied at the University of Boston and earned a degree in Economics and International Relations.
AOC was first introduced to politics while working for late Senator Ted Kennedy on immigration casework and foreign affairs in 2009.
After graduating, she returned to the Bronx and began to work as an Education Director with the National Hispanic Institute and started helping high school students "expand their skill sets in community leadership and social enterprise." according to her website.
In 2008, things took a turn for the worst. Her father died from cancer and she began working two jobs to help support her family. She started working 18 hour shifts bartending to make ends meet.
After experiencing financial and healthcare hardship, AOC recognized how policy decisions made in the government affect families like hers. Therefore, she made it one of her life goals to change this.
She formerly volunteered on Bernie Sanders's presidential campaign and received his advocacy during her primary race in 2016.
"Women like me aren't supposed to run for office," she said in a viral video that received over 2 million views. "I wasn't born to a wealthy or powerful family."
At first, Cortez was seen as a candidate with little to no chance of success, but as more and more people began viewing her video, she acquired more support. She pledged to expand Medicare for everyone, end private prisons and expand tuition free college. People were surprised and thought her ideas were an overreach, but what really turned heads was her plans to abolish ICE, the U.S Immigration and Customs Enforcement
Alexandria Ocasio-Cortez made history when she became the first woman and person of color to compete against Joe Crowley (D-NY) in 14 years.
When she beat Crowley, AOC introduced herself as a woman of the people and a person of color who lived and worked just like the people she fought to represent.
"I never saw myself getting into politics, but now that I sit here in this room with you all, I just feel like we can only accomplish great things together," she said once in a speech and she has done exactly that.