Celebrating Women – Sandra Day O'Connor, the first woman on the Supreme Court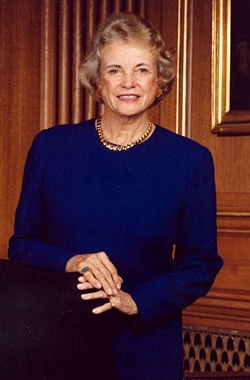 Sandra Day O'Connor was the first woman to serve in the Supreme Court of the United States.
She was nominated by former President Ronald Regan for this position in 1981. She served in the highest Supreme Court position. After she was elected she inspired many young women to go into law, when she was appointed thirty-six percent of law students were females, and after retiring that percentage had grown up to forty-eight percent. She has shown to be an amazing leader and inspires other young girls to follow your dreams. 
She was born in El Paso Texas on March 26, 1930. She grew up on her family's ranch in Arizona and displayed high levels of intelligence from a young age. But schooling options were limited for women in that era. She was sent away by her parents to live with her grandmother for a better education. She thrived at the Radford School for Girls and graduated high school two years early.
At only sixteen years old, she was accepted into Stanford and got a bachelors in Economics. In 1950, she was accepted into Stanford law school. As opposed to the usual three years in law school, she finished in just two. She graduated third in her class and also met her husband, John Jay O'Connor. They shortly afterwards got married after graduation. 
Despite her qualifications, it was hard for her to find work due to bias against women as attorneys. She began her legal career working for county attorney San Mateo for free, but once she was offered a paid position as a secretary she turned that down and went and proved herself worthy as the deputy county attorney.
In 1954, O'Connor left California to work in Frankfurt, Germany as a civilian attorney for the Quartermaster Masker Center. 
In 1957 she came back to America and settled in Arizona, where she opened her own Private Practice with another attorney. Eight years later she began working as the Assistant Attorney General of Arizona. In 1969, Sandra Day O'Connor was appointed to fill a vacated position in the Arizona State Senate. Then a year later she was elected to serve a full term as a Republican. 
She then was reelected twice in that position, even serving as the first female majority leader in any State Senate. She moved to her first position in the Judiciary in 1975 after winning the election for a seat in the Superior Court of Maricopa County, then was appointed to the Arizona Supreme Court of Appeals four years later. She worked in this position for only two year when Ronald Regan nominated her to become the first female justice to serve on the United States Supreme Court. 
Justice O'Connor wasted no time in her position. She immediately drafted the majority opinion in Mississippi University for Women v. Hogan. This case involved gender discrimination in which a man was sued after being denied admission to the traditionally all-female nursing school. 
The court ruled that they must accept only qualified men in the school, and O'Connor reasoned that not allowing men into the school perpetuated the limiting stereotype that nursing was a women's job. 
She also became involved in certain topics such as election law and abortion rights. She supported behind the choice for  woman who wanted to get a safe and legal abortion. Through her stewardship in Planned Parenthood of Southeastern Pennsylvania v. Casey, the court refashioned it's position on the right to abortion. After Casey, such laws would be considered unconstitutional only if they constituted an "undue burden" on women seeking to obtain an abortion.
In 2006 O'Connor retired from the Supreme Court and was replaced by Samuel Alito. She has written 7 books including children's books like Chico in 2005 and Finding Susie in 2009 both of which were based on her childhood experiences. In 2009 she was awarded the Presidential Medal of Freedom. 
 Sadly in 2018 she wrote a letter saying she had early-stage dementia and would withdraw from public life. She may not remember the amazing accomplishments in the forfeiture but her name and her milestones will always live on.