The Naugatuck High School Marching Band and Color Guard did it again.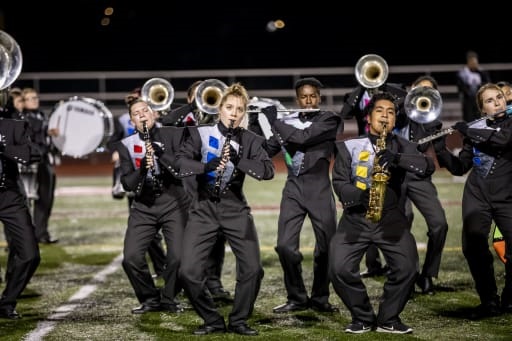 The Naugatuck High School Marching Band and Color Guard did it again. After numerous wins and phenomenal annual performances, the NHS band wins the 2022 state competition for the 2nd consecutive year.
At New Britain High Schools' brightly lit football field on a brisk October evening, the NHS band competed in the New England State Championships. The band was sized into division III open (75-99 members) and placed first in the state and 3rd in New England with a score of 86.40.
   A Marching Band is a group of musicians who perform while marching to create an alluring production. Naugy's theme this year was the well-known, youthful game – Monopoly. In the show "there was a hidden message about home and the time you spend with others playing the game," said Mr. Manny Arboleda, the Naugatuck Marching Band director. "It's more about that quality time spent with each other and not so much playing the actual game," added Arboleda.
   With the colorful array of plumes scattered and four corners of a monopoly board lining the field the band beautifully executed their 2022 performance. The blend of synchronized movement from the brightly sparkling color guard and the bands' creative formations coordinated with spirited music won these Greyhounds yet another first-place finish.
"All of their hard work is just really rewarding, we put hours and hours into rehearsing, so at the end of the season to hang up that second state champions banner, it felt great," said Arboleda. 
NHS band members rehearsed throughout August, September, and October, in hopes their diligent work and skills would pay off and it did just that.
"It felt really great to win yet again, after all of the hard work, and hours of practice throughout the summer and the fall months it was just amazing to wrap up the season with such a big win," said drumline section leader and member of the band, Luke Dalton. 
Next year the Naugatuck High school band community, members, and directors hope to continue their winning streak, legacy, and passion while strengthening their skills in this performing art.