Texas court overturns NFL decision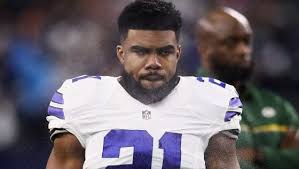 Hang on for a minute...we're trying to find some more stories you might like.
On August 28, 2017, an appeals court in Texas overturned the NFL's decision to suspend Ezekiel Elliott for six games. The NFL suspended him for alleged domestic violence against his girlfriend, Tiffany Thompson.
The Texas courts say that there has not been enough evidence provided by Tiffany Thompson, the NFL, and the Columbus Division of Police in Texas. They have overturned the NFL's punishment.
Ezekiel Elliott has played in 3 NFL games since the reversal. His team beat the Giants and Cardinals and lost to the Denver Broncos. It has not been mentioned much by announcers since game one when it was the hot topic.
"If I'm the Giants that case affects us just as much as the Cowboys, they must have game planned differently after seeing Elliott tear it up last year, thinking he wouldn't be suited up week one training camp definitely had a changed focus towards Dak [Prescott]," said game announcer Chris Collinsworth.
The star running back burst onto the scene by leading the league in rush yards and having 1500 plus yards, breaking his way into the MVP talks, and bringing the Dallas Cowboys to the playoffs.
But his off the field actions are starting to distract from his spectacular stats. In less than 2 years he has been accused of domestic violence twice. The NFL has been persistent in making sure all the facts are known and handled properly.
The NFL took a deep hit with the incident regarding Ray Rice, former Ravens running back. Rice was accused and found guilty of domestic violence and was damaging the NFL's reputation.
According to Sports Daily Dallas News Thompson filed two police reports with the Columbus police accusing Elliott of abusing her for several days in July 2016 before and on Elliott's 21st birthday. The woman said she was Elliott's girlfriend and lived with him.
Elliott denied living with the woman but said that he paid for her rent and co-signed on her vehicle. Elliott stated that he had never touched her in a harmful manner. The woman posted Instagram photos of bruises on her body. Elliott claimed that the bruises were from a bar fight she was involved in.
The Texas courts made mention that the NFL's decision was too hastily made and ill- informed and incorrect for the case.
"The state court system shouldn't be able to overrule the NFL's decision when dealing with the NFL's own players," said sports reporter Matthew Polek.
The NFL has begun a new investigation to find new evidence to ensure that no evidence is unseen and undocumented. They have handled the situation with great care and professionalism to allow the public to see that they aren't going to stand for domestic violence by their players.