Girl hit by foul ball at Yankee Stadium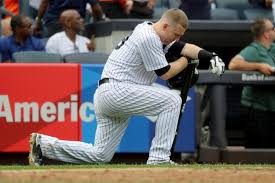 Hang on for a minute...we're trying to find some more stories you might like.
Last Wednesday September 20, the New York Yankees were playing the Minnesota Twins. During the fifth inning, Todd Frazier was at bat and he a line drive that hit a three year old girl who was sitting behind 3rd base.
Stadium staff members rushed to the girl who was bleeding and stayed there for several minutes.
Todd Frazier took a knee. The Twins third baseman, Eduardo Escobar, also held a moment of silence. He stood still and put his hands on his head. The game came to a total standstill.
"It was terrible. I was shaken up," a teary-eyed Frazier told reporters. "I don't know what happened. I just hope she's all right. It's tough to watch. It's tough to be a part of, honestly."
After a few minutes , the little girl was carried out by her grandfather. She was taken to the New York-Presbyterian/Columbia hospital in New York
The family was with the young girl at the hospital.  When asked by a report if his daughter would need surgery, the father said, ¨It's too early to tell."
According to The Washington Post, "Every year approximately 1,750 fans are injured by foul balls and broken bats," the councilman, Rafael Espinal, wrote in a May essay published by the New York Daily News. "Not only are these injuries preventable, but the MLB, Yankees and Mets have been slow to implement a simple solution that would prevent families' fun-filled ballpark outings from turning into nightmares."
Later on twitter, the MLB said "Scary moment at the Yankees game today as Todd Frazier's foul ball finds a young fan. Hope everyone involved is ok. #MLB"
Todd Frazier he keeps in contact with the family to see how the girl is doing. And the little  girl's father texted Frazier after the Yankees blow out the Royals 11-3. The text said, "She's doing a lot better." Frazier says he will visit the family soon..