NFL continues to blacklist Kaepernick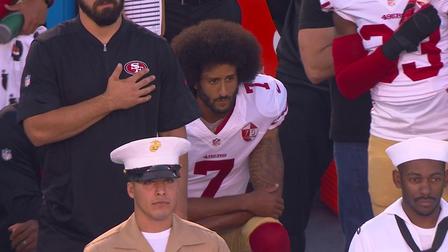 Hang on for a minute...we're trying to find some more stories you might like.
Quarterback Colin Kaepernick, formerly of the San Francisco 49ers, still has not been signed to play for any NFL team. Some believe it is because he has earned a reputation as a troublemaker; while others believe he simply is not talented enough.
His troubles began on September 1st, 2016 before a preseason game. Kaepernick sat down during "The Star- Spangled Banner". He later explained in an interview that he was protesting a racial inequality that still exists in the country.
"I am not going to stand up to show pride in a flag for a country that oppresses black people and people of color."
As fans began attacking Kaepernick, he explained that he will kneel, instead of sitting, as  a way to show more respect to the U.S military members and veterans.
Although Kaepernick did receive support from both the black community and the people away from that community, many people strongly disagreed his decision.
Now, Kaepernick still has no job. No team will sign him. He is unemployed for the first time in six years.
As of the past year, many in NFL are siding for Colin Kaepernick and kneeling or locking arms during the national anthem.
"Who am I to say, 'Colin, you're wrong'? And who am I to say, 'Bro, you're right?' Because we all have the right to think whatever we want to think, and I respect that about everybody," said Cam Newton, Carolina Panthers quarterback.