Sydney McLaughlin rules the track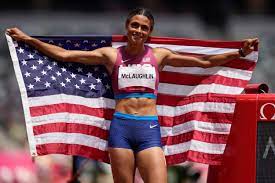 The 2020 Olympics were definitely games to remember. While some athletes took a necessary break to focus on mental health, others achieved greatness and broke many Olympic records. One such superstar is U.S track runner, Sydney McLaughlin.
On July 2 Sydney McLaughlin surprised everyone with her amazing abilities during the Olympic Trials. Faced off against the 2019 World Champion and 2016 gold medalist, Dalilah Muhammad, McLaughlin was not intimidated. McLaughlin finished the 400 meter race in first place and set the new record at 51.90. 
After demolishing the world record, many were exuberant to see how Sydney would perform even better in the Olympic games. Would she be the one to take the gold medal back to America? Or would Dalilah Muhammad retain her title?
When the time came for McLaughlin and Muhammad to duel for the gold medal, countless Americans were predicting the results could go either way. Mclaughlin shocked the audience yet again, finishing first and vanquishing her own world record by half a second, making the new world record time 51.46.
On McLaughlin's 22nd birthday, she finished her 2021 Olympic experience with a first place win in the 400 meter relay along with eleven time gold medalist Allyson Felix, Dalilah Muhammad and 800m meter gold medalist Athing Mu.
Sydney McLaughlin was frequently asked about her constant battle against Dalilah Muhammad and her response is always the same —   "iron sharpens iron." 
"Sydney McLaughlin is not done" a student athlete at Naugatuck High School says, "She will continue to break records and win medals. She never fails to wow me"
Born in Dunellen, New Jersey, Sydney McLauglin was destined to be a phenomenal athlete. Her father, Willie McLaughlin was a semi-finalist in the 1984 Olympic trials, while her mother, Mary McLaughlin was a track runner in high school. Growing up, Sydney was surrounded by competition in her household. Her brother, Taylor, won silver in the IAAF World U20 Championships and is currently a sprinter at the University of Michigan.
At 16 years old, McLaughlin became the youngest athlete to make the US track and field team since 1972. During the Olympic trials, McLaughin ran a 54.15 in the 400 meter hurdles. Unfortunately, she was unable to make it into the finals and her Olympic experience was cut short.
In November of 2016, McLaughlin committed to the University of Kentucky to attain her dream of running track professionally. Throughout her time at Kentucky she became the 2018 NCAA 400 meter champion and the SEC champion in the 400 meter hurdles. McLaughlin is also a five time All American and a finalist for the Bowerman Award.
Sydney McLaughlin is a great role model for young runners. "She shows young athletes that if you work hard, you can achieve your goals. Dalilah Muhammad's age and experience didn't intimidate Sydney. She went to Tokyo and did what she always does, she won." says a student.