5 MLB stars who could be on the move this offseason
Hang on for a minute...we're trying to find some more stories you might like.
With the Winter Meetings beginning next week, the MLB hot stove is beginning to heat up. Shohei Ohtani has dominated headlines this offseason and he hasn't even signed yet. He's been meeting with teams this week and has until December 22nd to sign with a club.
The free agent class is headlined by Yu Darvish, Jake Arrieta, Eric Hosmer, and JD Martinez: that's good talent that can be changing uniforms, but there are some even bigger names that should be moved this offseason via the trade.
Giancarlo Stanton
Ah, the name everyone's been talking about along with Ohtani's. The reigning NL MVP is expected to be moved this offseason by the Miami Marlins. In November of 2014 the slugger signed a 13 year, 325 million dollar deal, with an opt out after 2020. That opt out is big, because after he sees what Manny Machado and Bryce Harper get in the 2018 offseason, he'll most likely be looking for an even bigger deal, especially if he can recreate more seasons like his most recent.
The biggest name surrounding Stanton has been the San Francisco Giants, a team that since 2010 has 3 World Series titles, the most in baseball in that time. The Giants finished last in home runs in 2017, so adding a bat like Stanton's could be big difference maker in the tight NL West. It's no secret that Stanton fits perfectly into the San Fran lineup that already includes Buster Posey and Hunter Pence so adding Stanton could easily put the Giants right back into contention.
Dellin Betances/Kyle Schwarber
There's a reason these two players made the same headline here. Because they're the perfect swap. The Yankees bullpen is arguably the best in baseball, while their DH spot was a rough spot last year, especially in the playoffs. Betances had some shaky spots last year in some big moments and the Yankees had a hard time trusting him in the playoffs.
Kyle Schwarber is a power hitting lefty who is made for the Yankee Stadium short porch. He struggled at the start of 2017 and even got sent to Triple-A at one point. The Cubs play in the NL and don't have the luxury of the DH, so they've been using him in the outfield. Schwarber is not an outfielder by any means. He's a DH. And the Yankees desperately need a DH. Not to mention, the Cubs need some bullpen help. This trade is a win for both sides and the rumors have been swirling for a little while now. The only thing left to do is to wait and see if it gets done.
Chris Archer/Evan Longoria
These two Tampa Bay Rays could both be on the move this offseason. Archer is the ace of the Rays and has had his name mentioned in trade rumors for about a year now. Longo will be earn his 10 and 5 rights* at the end of the 2018 season so Tampa should get what he's worth now, before he can veto any trades.
Many thought Archer would be moved mid season at the deadline, but with the Rays playing surprisingly well, that never happened. In the tough AL East, with the Red Sox and Yankees both being good, young teams, the Rays could easily struggle in 2018. Moving Archer would help the Rays strengthen their farm system and prepare for the future.
Evan Longoria is a 3 time all star who can provide a spark in the middle of a lineup. Coming off a 2017 season in which he played 156 games, hit 20 homers, and won his 3rd Gold Glove, the 32 year old can really help some teams out.  
The St. Louis Cardinals have been linked to Giancarlo Stanton, although he has been adamant about wanting to play on the west coast. If they don't get Stanton, they should quickly pivot and look for other options. They have been rumored to be in talks with the Rays about both Archer and Longoria, and both players would fit well on the Cards. Teams can never have enough pitching, and Longoria would fit well at 3rd base next to a young Paul Dejong at SS.
If neither of these Rays get dealt this offseason, look for their names come July next year if the Rays are struggling to stay in the AL East race.
*According to MLB.com 10 and 5 rights are: Players who have accrued 10 years of Major League service time and spent the past five consecutive years with the same team are awarded 10-and-5 rights. Under these circumstances, a player can veto any trade scenario that is proposed. In essence, 10-and-5 rights function as a full no-trade clause.
Andrew McCutchen
Former MVP Andrew McCutchen of the Pittsburgh Pirates is another seasoned veteran who can help a lot of teams out. The 5 time all star and former MVP is entering his age 31 season and is coming off his best year since 2014. McCutchen batted .279 with 28 HR. The Pirates finished 17 games back of the division winner in 2017 and they don't seem to have the talent to be competitive in 2018. The Pirates should tear the team apart and start a rebuild, and it starts with McCutchen.
The Giants have had some contact with Pittsburgh about the outfielder, and they could very well be looking at him as an option if they fail to get Giancarlo Stanton. If McCutchen does get dealt, it probably won't happen until after the Stanton deal if that does happen. If and when that happens, talks surrounding McCutch should pick up very quickly.
Manny Machado/Josh Donaldson
These two players aren't together for the same reason Betances and Schwarber were together. These two all-stars are together because they're both free agents after 2018 and they both play for struggling teams. Machado's Orioles and Donaldson's Blue Jays both play in the AL East with the Yankees and Red Sox, and just like Tampa Bay, aren't expected to compete in 2018.
Both 3rd basemen hit 33 homers in 2017 and both would be an improvement for most teams at 3B. The Orioles finished 18 games back of the division winner in 2017 while the Blue Jays only did 1 game better, but both teams finished within 10 games of a wild card spot. Ever since the 2nd wild card spot was brought into play many teams believe they can be contenders down the stretch. For that reason alone, these 2 all stars could very well stay put for the time being, but be dealt in July at the deadline, but as we've learned in the past, anything can happen at the Winter Meetings, which begin next week in Orlando, Florida.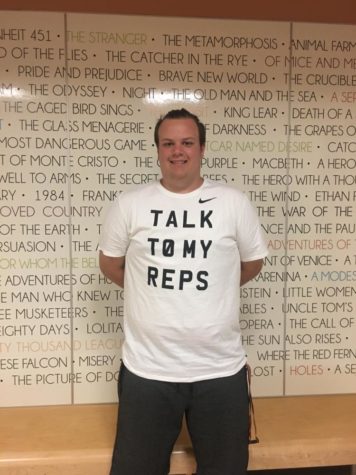 Matthew Polek, Sports Editor
I am a senior. I will be attending the University of Tampa as a journalism major in the fall of 2018.