Trump and Ball spar on Twitter
Hang on for a minute...we're trying to find some more stories you might like.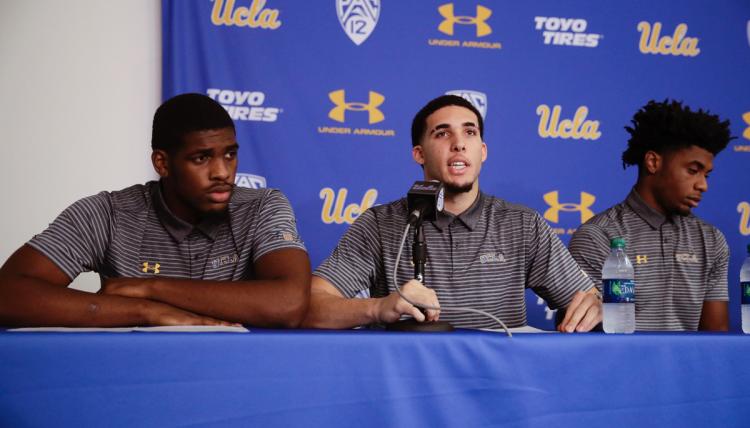 NY Daily News
On November 8th UCLA star LiAngelo Ball and teammates Cody Riley and Jalen Hill  were arrested in China for shoplifting at a Louis Vuitton store next to the hotel.
The three players were to stay in the team's hotel in Hangzhou until the case is adjudicated, which could take days, weeks, or months. They even spent time in a cement cell.
Ball's father, Lavar Ball, however, told reporters he was not concerned..
"He'll be fine. Everybody is making it a big deal. It ain't a big deal," said Ball to ESPN's Arash Markazi.
Then on November 19th the three players LiAngelo Ball, Cody Riley, and Jalen Hill were all released and finally got to fly home with the help of Donald Trump.
But Lavar Ball doesn't think Trump helped out.
A Twitter war ensued.
"Do you think the three UCLA Basketball Players will say thank you President Trump? They were headed for 10 years in jail!" tweeted Trump.
Lavar Ball continues to  feel like Trump did nothing to help him out. Ball thinks that his son's shoes will calm him down. And Ball has no problem sending him some.
Ball says ¨My ZO2´s will help Trump CALM THE […] DOWN"
At least LiAngelo Ball and teammates thanked president Trump. On November 15th LiAngelo Ball, Cody Riley, and Jalen Hill had their first press conference since coming back home since the situation in China. They all apologized to the fans, their teammates, family, friends, UCLA, and the people in China. Ball, Riley, and Hill are all suspended until further notice.
"It wasn't the White House, it wasn't the State Department, it wasn't father LaVar's so-called people on the ground in China that got his son out of a long term prison sentence – IT WAS ME. Too bad! LaVar is just a poor man's version of Don King, but without the hair. Just think LaVar, you could have spent the next 5 to 10 years during Thanksgiving with your son in China, but no NBA contract to support you. But remember LaVar, shoplifting is NOT a little thing. It's a really big deal, especially in China. Ungrateful fool!"
Ball responded,  "I sent Trump My ZO2´s to the white house and he didn't thank me yet.¨