Sexual misconduct allegations flood American politics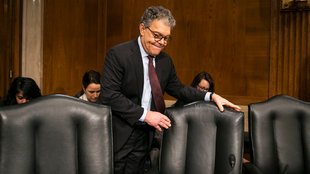 Ever since Harvey Weinstein, a former film producer and executive was accused by five women based on sexual misconduct on October 05, and later by a total of eighty-three women, claims of sexual misconduct (including but not limited to harassment and assault) have been made against men in film and television.
As more claims begin to surface, it becomes apparent that many men associated with or who have ties to Congress have been some of these accused men.
These claims have reached different members of Congress such as Al Franken, a U.S. former Senator from Minnesota, Donald J. Trump, President of the United States of America, John Conyers, a former (as of December 05) U.S. Representative of Michigan's 13th congressional district, Roy Moore, a Alabama state judge; who lost the Senate race for Senate seat for Alabama, and Jeff Hoover, a former Kentucky House Speaker.
For many of these men, once the allegations arose, did not resign from their positions. The biggest two examples being former Minnesota Senator, Al Franken, and former jurist and politician from Alabama.
In the instance of Al Franken, a total of eight women accused Al Franken of sexual misconduct primarily on sexual assault.
Despite the allegations, which primarily had to do with with non-consensual bodily contact with the women, Al Franken delayed resigning, and it is only after the increasing pressure from the Democratic Party that Mr. Franken decided to resign in a speech to Congress.
It is unclear on the future of Mr. Franken, in the resignation speech towards Congress that Mr. Franken gave, Mr. Franken claimed that even though he is resigning, he will still be an active member of the community. The extent to which he claims to be an active member of the community is unclear, and still remains to be seen if his career is over.
The second instance of delayed resignation or in this case, removal from a political office or party is Roy Moore. Roy Moore similarly to Al Franken has been accused by eight women ranging from sexual harassment to assault, and many of them claimed that this misconduct occurred during the teenage years of these women.
After the allegations arose, Mr. Moore repeatedly denied these allegations, claiming that many of them were political defamation, and continued his political career. Even through the allegations, Mr. Moore could have maintained his political career.
On December 12, 2017, the state of Alabama held a special Senate race and one of the contenders for the seat in the Senate was Roy Moore. Throughout the entirety of the race, the odds of winning were in Mr. Moore's favor, with Mr. Moore running as a Republican, and his opponent Doug Jones, a Democrat (the state of Alabama has historically always voted primarily Republican.)
But in a surprising victory to many, Doug Jones won the Senate race over Roy Moore, leaving the future of Mr. Moore, like Franken's, entirely unclear, but it is possible to infer that Mr. Moore's political career to be terminated due to his loss in the race.
Some other men such as current United States President, Donald Trump are currently in political office despite the allegations that been made against them. In the case of Mr. Trump, around nineteen women have accused him of sexual misconduct outside and inside of his political career.
Just like Roy Moore, Mr. Trump has either denied these allegations or threatened to sue the women who made allegations against him. These allegations even stemmed before the 2016, where in a hot-mic incident, Mr. Trump claimed to non-consensual groping .
So far these allegations have not caused any sort of disturbances in Mr. Trump's political power or career, in which, Mr. Trump has evaded these allegations unscathed.
John Conyers, former Michigan Senator, and member of the Black Caucus, a political organization made up of African-Americans, was accused by one women in a report published by Buzzfeed that Mr. Conyers fired her because she would not "succumb to [his] sexual advances." Mr. Conyers later confirmed this allegation, but denied other sexual harassment allegations.
Since the first allegation, other women have accused Mr. Conyers of sexual harassment and assault. According to the The Atlantic, Mr. Conyers had in various instances invited women into hotel rooms in the 1990's, and either made unwanted sexual advances, or the case of one women, invited her to hotel room, "with the guise of discussing business and prepositioning for sex." One woman even claimed that Mr. Conyers verbally abused her.
Despite the denial of the allegations, Mr. Conyers relinquished his position and resigned on December 05, 2017.
But the prevalence of sexual misconduct in American politics, primarily in Congress becomes evident through a report published by The Washington Post, stating that, "Between the years of 1997 – 2017, the United States Treasury paid $15.2 million in 235 awards and settlements for Capitol Hill workplace violations, according to the congressional Office of Compliance."
But in another report, also published by The Washington Post, Congress had paid nearly $3 million in settlements in the previous three years (In the years 1997-2014 Congress paid $15.2 million and since then paid $3 million more which amounts to $17.2 million in settlement pay offs in the past twenty years.)
But the prevalence of sexual misconduct in politics, also highlights an issue with both the way Congress handles workplace violations/sexual misconduct allegations, and the pressure victims of sexual misconduct feel in politics (both inside and out.)
According to The Washington Post, political interns possess limited harassment protections under the unique employment law that Congress goes by meaning that interns who are victims to sexual misconduct may simply have their complaint thrown out.  Also,  filing a complaint for accusers can be difficult.
Under a law in place since 1995, accusers filing a complaint must first consent to months of counseling and mediation, where then a special congressional office is charged with resolving the case outside of court. But when a settlement does occur, members don't pay from their own office funds, but instead from the U.S. Treasury fund.
"It is not a victim-friendly process. It is an institution-protection process," said Rep. Jackie Speier, a Democrat from California to The Washington Post.
But the issue of how to deal with sexual misconduct, both inside and outside of American politics, is split between conservative and liberal leaders, from mixed and unclear messages to lack of a concrete action to address the claims.
According to The Business Insider, liberal leaders such as House Minority Leader Nancy Pelosi, have been hesitant to condemn political allies, while other politically left leaders, such as Senator Kirsten Gillibrand have made support for survivors central to their political agenda. While conservative leaders such as U.S. President Donald J. Trump have flip-flopped on the issue, supported condemnation of political foes based on sexual misconduct claims, and undermining those made against political allies.
How Congress and the American government deal with claims of sexual misconduct becomes evident with how the Democratic Party, and the Republic Party dealt with Sen. Al Franken and Roy Moore respectively.
While Al Franken delayed to resign, increased pressure from Democrats pushed him to resign, while Roy Moore was supported by his party, primarily from the U.S. President Donald Trump.
With how Congress ultimately decides to do against sexual misconduct in the workplace is still not entirely clear, or even if a unified course of action to deal with misconduct can be made, but time will tell if an actual solution to diminish workplace, especially in the government, sexual misconduct can be found or made.