Brady plays through hand injury
Hang on for a minute...we're trying to find some more stories you might like.
On Thursday, January 18th, 2018, New England Patriots 5-time Super Bowl winning quarterback Tom Brady missed practice because of an apparent hand injury.
Due to a handoff to running back, Rex Burkhead, Tom Brady's hand got his hand cut on the helmet of the running back, but Brady says differently.
¨We ran into each other and my thumb just bent back. It wasn't his helmet or anything…" Brady told ESPN's Adam Schefter. Brady had 12 stitches in his hand.
"I thought, 'Of all the plays, my season can't end on a handoff in practice. I didn't come this far to end on a handoff'", Tom Brady continued after defeating the Jacksonville Jaguars, 24-20, on Sunday night for the AFC Championship game. He played this game with his hand injury.
"I wasn't sure, I really wasn't," said Brady, "Wednesday, it happened, and Wednesday night I definitely wasn't sure….  Thursday, I didn't practice, I took some time time off. Friday, did just a little bit and things kind of felt a lot better on Saturday and Sunday I was just able to kind of do what i needed to do." However, he decided to play in the game. He performed well.
As Brady was running out on the Gillette Stadium, hw wore a white under armour glove on his left hand, and black KT tape, covering the injury on the palm of his right hand.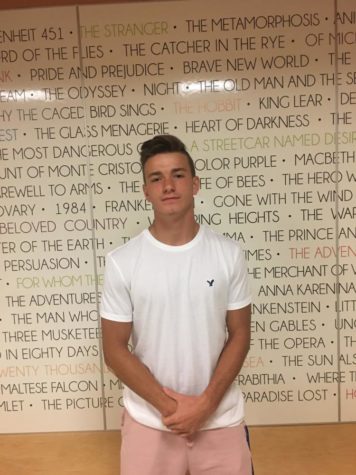 Nicholas Boudreau, Staff Writer
I am in 12th grade. I am still deciding what I would like to do. I would like to become a better writer. My favorite teacher is Mrs. Dymond.