Celtics Legend Jo Jo White dies from brain cancer
Hang on for a minute...we're trying to find some more stories you might like.
Celtics legend JoJo White passed away on Tuesday January 16, 2018. White was 71 years old. He was a NBA champion and a finals MVP, Olympic gold medalist, and a Hall of Famer.
In May 2010, he was diagnosed with a tumor in his brain.
In a speech in 2015, he said "The doctor said I wasn't supposed to be here, but God had other plans, and for this I'm truly, truly grateful."
White played 10 seasons with the Boston Celtics, was a 7-time NBA All-star, and also played for the Golden State Warriors and the Kansas City Kings.
One year after he retired in 1981, the Boston Celtics retired his jersey.
"We are terribly saddened by the passing of the great JoJo White. He was a champion and a gentleman; supremely talented and brilliant on the court, and endlessly gracious off of it. Jo Jo was a key member of two championship teams, an NBA finals MVP, a gold medal-winning Olympian, and a Hall of Famer. His contributions to the team's championship legacy may have only been surpassed by the deep and lasting impact that he had in the community. The thoughts and sympathies of the entire Celtics organization are with the white family,"  said the Boston Celtics in an issued statement.
Adam Silver, NBA Commissioner, also later released a statement about White. "JoJo was legend of our game. Two-time NBA champion, finals MVP and an olympic gold medalist — a model of consistent excellence and uncommon poise. He was a Hall of Fame player and an even bigger legend to countless people he inspired and communities he gave back to, especially in his longtime role as the Celtics' director of special projects. On behalf of the NBA family, I extend my deepest sympathies to Jo Jo's family and friends and the Celtics organization."
After retirement  White was hired as the front office as Director of Special Projects for the Boston Celtics in May of 2000. He was also a first round pick ( the 9th overall pick) in 1969. In 1979 he was traded to the Golden State Warriors for a future draft choice.
During his 12 year career he averaged 17.2 PPG, 4.9 AST, and 4.0 rebounds during the regular season. During the playoffs he averaged 21.5 PPG, 5.7 AST, and 4.4 rebounds.
White's streak of 488 consecutive games played still remains a franchise record. He played 63 mins in the triple overtime in the NBA finals against the Phoenix Suns. He had the most points in the game–33 points and 9 assists. The Celtics won the game 128-126 and White won his first NBA title. He was named the MVP (most valuable player).
White was one of the best players his size.  Whites former college coach Phog Allen said "White does everything better than any man his size I have ever seen." Allen also told sports Illustrated in 1967 "Watch him and you think he's floating in oil."
White he was a top National recruit out of McKinley High School in St. Louis. He decided he wanted to play for Kansas for college ball, which was a 4-hour drive from his house.
During his sophomore year in college, he started to improve his talents. Then, professionally teams starting getting interested in him.  
In the summer of 1968, he won a gold medal for the USA men's basketball team. He then entered the draft in 1969 and was the 9th overall pick for the Boston Celtics.
After retirement, White was hired as the front office as Director of Special Projects for the Boston Celtics in May of 2000.
In 2015, he was inducted into the Hall Of Fame in Springfield, Massachusetts. White he went to the ceremony while he was dealing with cancer.
White's daughter Meka White Morris said "My dad died from complications (pneumonia) from dementia that was brought on by the removal of a benign brain tumor in May 2010."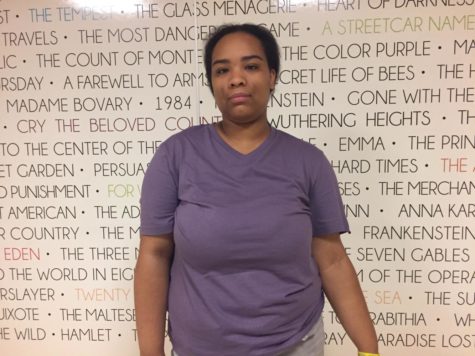 Mya Gladding, Staff Writer
I am in 12th grade. The reason I took journalism is because I want to be a sportscaster. In college you have to take journalism, so I wanted to get a feel...