Jones, Guerrero, Thome, Hoffman get the call from the Hall
Hang on for a minute...we're trying to find some more stories you might like.
On Wednesday, January 25th the Baseball Writers Association of America (BBWAA) announced the inductees into the National Baseball Hall of Fame for 2018. Players need 75% of voters to check their name to get the call, and, for the first time since 2015, 4 players got over that threshold.
Chipper Jones (97.2%), Vladimir Guerrero (92.9%), Jim Thome (89.8%), and Trevor Hoffman (79.9%) all got the call yesterday, informing them that they will be enshrined in Cooperstown, NY, with the best to ever step on a diamond.
This was the first year Jones and Thome were on the ballot, while Guerrero and Hoffman were on for their 2nd and 3rd year respectively.
Chipper Jones was an MVP, 8x All-Star, 2x Silver Slugger, and a '95 World Series champion, with the only franchise he's ever known, the Atlanta Braves.
"Ultimately this is a day that's going to change my life forever," Jones told Fox Sports. "We have a handful of those in a lifetime, transcendent moments that just change your life forever. Today was certainly one of them and there's no getting around that."
Jones also became the 10th player to ever surpass 97% joining Ken Griffey Jr. (99.3 percent), Tom Seaver (98.8), Nolan Ryan (98.8), Cal Ripken (98.2), George Brett (98.2), Ty Cobb (98.2) George Brett (98.1), Hank Aaron (97.8), Tony Gwynn (97.6), Randy Johnson (97.2) and Greg Maddux (97.2).
Jim Thome was the other first ballot Hall of Famer this year along with Jones.
Thome never won an MVP, never a champion, but he's done something only 9 people in the history of the game have ever done, and that's surpass the 600 home run mark, finishing 8th all time with 612.
Thome was never a champion, but he did play in 2 World Series, ('95 and '97 with CLE). Thome played 71 postseason games in his historic career. That's 14 less games than David Ortiz, a man many believe is the greatest postseason hitter of all time.
Despite playing 14 fewer games than Big Papi, Thome is tied with him at 17 postseason home runs, 7th all time.
"This is a day I don't think any player can ever imagine happening," Thome said on Wednesday. "It's a special day in all of our lives."
Vladimir Guerrero became eligible for the HOF last year but came up short by 15 votes. This year he set a record for a 2nd year candidate with 92.9% of the vote.
Vlad is a MVP, 9x All-Star, and 8x Silver Slugger. Vlad finished his career with 449 home runs, 1496 RBI, and was a .318 lifetime hitter.
That's most impressive for some who is considered one of the best "bad ball" hitters of all time. Vlad also had a canon for an arm in the outfield, racking up 126 assists in his 16 year career.
"I feel very happy, thanks to God," Guerrero said in Spanish during a conference call. "I want to thank everyone who voted for me. Last year I was happy when I came close, and this year I feel even happier for making it into the Hall of Fame."
The first 3 guys inducted this year were all guys people believed deserved this honor, and would get it this year. Trevor Hoffman was someone some people thought could fall short, but in the end, Hoffman received 337 out of the 422 total, which earned him the call by a slim, 20 votes.
Hoffman is a 7x All-Star and a 2x Rolaids Reliever of the year award winner. When he retired after the 2010 season, he was the all time saves leader, at 601 lifetime saves. He would be surpassed by Mariano Rivera, the greatest closer ever, in 2011, but Hoffman is still the only player ever besides Mo to even break 500 saves.
Hoffman also finished top 5 in Cy Young award voting, including 2 top 2 finishes in '98 and '06. He will also be just the 2nd San Diego Padre to make the Hall of Fame, joining the late Tony Gwynn.
"It's hard to describe the emotions that flood you right away," Hoffman said. "I know it's a very standard line, but so many things go through you. You think of your early days in the game, you think of parts of your career, you understand what you put in on a daily basis. To be sitting at this stage, seven years after you retire, it just comes full circle. It's the cherry on top of a sundae."
Although Wednesday was a dream come true for those 4 men, it wasn't a great day for all players on the ballot. Edgar Martinez got 70.4% of the vote, coming up just 20 votes short from the necessary 75% needed.
Although he didn't get in this year, the Mariners great is still optimistic about next year.
"Even though I didn't make it this year, getting 70 percent is a big improvement, and all I can think right now is it's looking good for next year," Martinez said. "It would have been great to get in, but it looks good for next year."
The big names joining the ballot next year include Mariano Rivera, Andy Pettitte, Todd Helton, and the late Roy Halladay.
Hideki Matsui, Johan Santana, Johnny Damon, and Jaime Moyer, all received less than 5% of the vote and will be removed from the BBWAA ballot.
Jones, Thome, Guerrero, and Hoffman will be inducted on July 29th this summer in Cooperstown along with Jack Morris and Alan Trammell, the 2 Modern Baseball Era committee electees.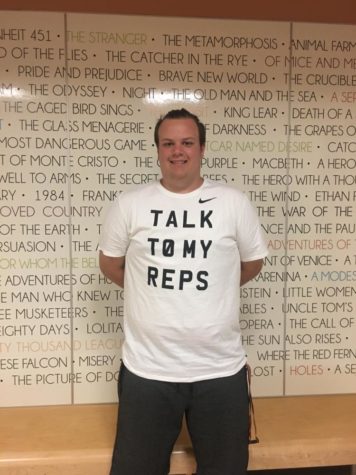 Matthew Polek, Sports Editor
I am a senior. I will be attending the University of Tampa as a journalism major in the fall of 2018.