Australia's Turnbull and President Trump discuss gun control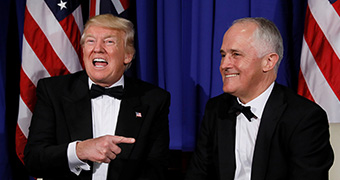 On Friday, February 23, 2018, Malcolm Turnbull, Australia's Prime Minister, visited U.S. President Donald Trump at the White House. Mr. Turnbull and Mr. Trump conversed about issues such as North Korea, tax reform, and gun control/reform during the visit.
The gun control/reform debate spurred after the Parkland shooting in Florida. The visit had a major focus on gun control, despite such, Mr. Turnbull did not provide any political advice, or policy suggestions on the matter.
To many, including the United States, Australia's actions after the Port Arthur massacre in 1996, could be viewed as an example of successful gun control legislation. The massacre occured in Port Arthur, Tasmania, where a gunman used a semi-automatic rifle to kill thirty-five people, and wounding twenty-three. In an 18 year period (from 1979 to 1996) according to Gizmodo.com, has had thirteen mass shooting, but this massacre specifically caused the island nation to push for stronger gun laws. This legislation included banning assault rifles and semi automatic weapons, and a buyback policy where people who had firearms were compensated for their weapons at market places. Australia has not had a mass shooting since.
"It's a completely different context historically, legally and so forth," Mr. Turnbull said. "We are very satisfied with our laws, and we maintain them… but we certainly don't presume to provide policy or political advice on the matter here."
According to News.com President Trump agreed with Mr. Turnbull and claimed that his [Mr. Trump's] focus on the matter is on stronger background checks on those who wish to buy guns, and giving schools the "offensive capability" when attacked.
Besides Mr. Turnbull, Mr. Trump also met with the survivors from Parkland High School, as well as parents, on Wednesday, February 21, 2018, to discuss gun control and their own views on the matter. Sam Zeif, one of the students present also mentioned Australia's actions on mass shooting, which further pushed for Mr. Turnbull's visit to the White House.
The National Rifle Association has "long pushed back" against the Australian gun control policy, citing studies that claim that Australia's gun restrictions have not been effective. But in a study published in 2010, by Andrew Leigh, a former economics professor at the Australian National University, and Christine Neill from the Department of Economics at Wilfrid Laurier University,  found that the withdrawal of 3,500 guns due to the buyback policy per 100,000 individuals reduced the firearm suicide rate by close to eighty percent. Although the estimates of the homicide rates are less precise according to the study, point estimate that the firearm homicide rate dropped by a substantial proportion.
The study also provides evidence that reduced access to firearms lowers firearm death rates and may also lower overall death by suicide and homicide.
According to the Australian Bureau of Statistics, from 1996, from which the buyback policy was implemented, to 2006, there was a steady decrease from 0.5 firearm homicide per 100,00 people to 0.1 firearm homicides per 100,000 people. This statistic was used by Mr. Leigh in the study.
Despite the supporting evidence that less guns ultimately means less suicide, homicide, and mass shootings. The United States and Australia have different histories and constitutions, and the U.S. much like what Australia had to do, has to work hard in order to change things. Things won't change overnight, but sooner or later, something's got to happen. But the question remains, is this gun issue, a mental health issue, or a school issue; and for one parent who lost a child in the Parkland shooting that answer is simple.
"It is not about gun laws. That is another fight, another battle. Let's fix the schools and then you guys can battle it out whatever you want. But we need our children safe. Monday, tomorrow, whatever day it is, kids go to school. Do you think everyone's kids are safe?," said Andrew Pollack, a parent present at Parkland meeting, who also lost a daughter in the shooting.
Mr. Pollack's words shed light on the issue, and because of this, in schools across the country, internal debates with teachers and students are occurring on what students think their school should do.
Suggestions about arming teachers, to arming teachers with non-lethal weapons (tasers etc.,) to having armed guards, to having more police officers, to many more, but where a lot of these suggestions fall is that how can schools get the money to fund all of this, and for many, uncertainty is present.
The state of Florida, after the Parkland shooting, legislators from both the Florida House and Senate Appropriations Committees voted to approve a bill that would create a program to arm teachers in the classroom, according to The Washington Post. The bill creates a "school marshal" program costing $67 million, with a majority of the money going towards training the teachers. The bill also allows teachers to carry guns in districts where the superintendent supports the legislation. The bill also raises the buying age of guns in Florida from eighteen to twenty-one.
Across the nation students from schools are pushing for change, within the nation, with gun control, with their schools, and for the treatment of mental illness, and this includes the students from Parkland High School. Whether it is walkouts, protesting, or even trying to find common ground on the matter, students from across the U.S. want something to change, because no one wants to wonder; who's next?