NFL makes rule changes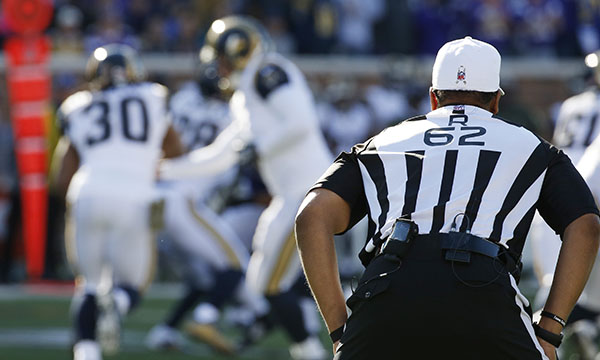 Hang on for a minute...we're trying to find some more stories you might like.
NFL team owners voted on rule changes during meeting on March 25-28 for the upcoming 2018 season. Seven playing rule changes were made to improve play.
The first rule change makes any lowering of the head to initiate contact a 15-yard penalty to protect the players' health. This rule will hopefully prevent players like Ryan Shazier who endured a career ending injury.
However a large amount of players and coaches believe this will only hurt the game by forcing tacklers to aim lowe, which will create more knee injuries.
The next rule changes the standard for a catch dismissing the "survive the ground" rule and implementing a football move to award a completion. This rule switches the focus referees make about control on the way to the ground to whether or not a football move was made, making this rule controversial around the league.
Jesse James, tight end for the Pittsburgh Steelers reacted by saying, "Whether it was the old rule, or this new rule. To reverse something on review it has to be clear cut. I feel like they didn't do a good job on that"
"Every time, we tried to add language to cure a situation and that did not serve us well," said Rich McKay, president of the Atlanta Falcons.
A completely new rule allows Al Riveron, Senior Vice President of Officiating, the ability to eject players that are seen fighting or punching during a replay.
The touchback was changed from the 20 yard line to the 25 yard line in 2017 to force returners to settle for a kneel. This experimental rule will be implemented permanently for 2018 and beyond to decrease kick returns and reduce injuries on kickoffs.
Teams will no longer be required to kick a meaningless extra point, or kneel down, after a score on the final play of regulation. With triple zeros on the clock at the end of the game when the winner has been decided an extra is no longer necessary.
NFL teams can no longer verbally agree with a next year coach that  is involved in the playoffs. The reasoning is so no distractions are keeping that coach from completing his job in the postseason.
Owners voted on outlawing video on the sidelines because it allows less prepared teams to make more in game adjustments to level the playing field.
The NFL has changed its rules drastically and this upcoming season will have fans begging for a completed pass or a no call on a lowered head. Either way the referees need to refrain from calling past rules with the multitude of new rules applied.