Supreme court nominee Brett Kavanaugh faces a bitter battle before vote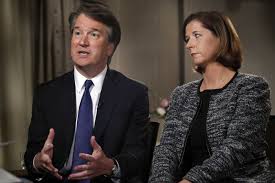 Brett Kavanaugh, a United States attorney and judge for the United States Court of Appeals, was nominated by President Donald Trump to fill the newest seat of the Supreme Court of The United States.
According to Vox his nomination was "virtually secured", until allegations of sexual assault aarose. Last week, Christine Blasey Ford, a clinical psychology professor at Palo Alto University, accused Brett Kavanaugh of sexually assaulting her when the two were teenagers in 1982.
Christine Ford says that Brett Kavanaugh tried forcing himself onto her while the two were at a party. She added that he tried removing her clothing and covered her mouth when she tried to scream.
Ford made a statement to Time Magazine saying, " I thought he might inadvertently kill me. He was trying to attack me and remove my clothing."
Ford also said she was only able to get away from Kavanaugh because a friend of his jumped on top of the two, and all of them tumbled to the ground.
Christine Ford and Brett Kavanaugh both lived in Bethesda, Maryland. Kavanaugh attended Georgetown Preparatory School and Ford went to Holton-Arms School.
Ford said that she went to a party with boys from the private school but did not name the school boys. Ford also states that she didn't want to tell the public about the events of that night because it could bring retaliation and backlash to her and her family.
Ford never mentioned the events until 2012, during a couples therapy session with her husband. In the beginning, when she was first telling reporters of the events, Ford requested "anonymity".
One of the very first articles was published by The New Yorker and written by journalists John Mayer and Roman Farrow. This article was the first to expose and mainstream Brett Kavanaugh's "secret life".
Kavanaugh made a statement through the White House denying all allegations of assault.
"This is a completely false allegation. I have never done anything like what the accuser describes- to her or to anyone. Because this never happened, I had no idea who was making the accusation until she identified herself."  
Both Republicans and Democrats are calling for a investigation into the allegations.
A statement made by President Trump said "We want to go through a full process and hear everyone out."
If Brett Kavanaugh is confirmed then he will be the second Supreme Court Justice member accused of sexual assault after Clarence Thomas.
According to the Pool Report " there is no clear saying whether or not Kavanaugh's allegations will or have delayed his confirmation process."
The vote that will take place on Friday September 28, 2018 to determine the position of Brett Kavanaugh's Supreme Court nomination.
There will also be a testimony live streamed this Thursday September 27, 2018 on C-Span.