Stan Lee dies at 95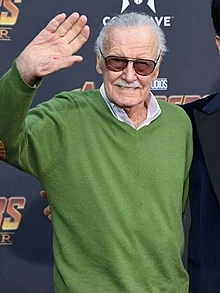 "Guess one man can make a difference," said by the late great Stan Lee. That is exactly what he did –  he made a difference.
On November 12, 2018 the great Stan Lee died at the age of 95 in Los Angeles.
Stanley Martin Lieber, better known as Stan Lee, was a comic book writer, editor, and publisher since the 1940's.
He was better recognized after he helped create the well-known hero Spider-Man in 1962 in the story Amazing Fantasy #15.
From that day on Stan Lee was creating and writing comic books for years on end.
From Fantastic Four, X-Men, Doctor Strange, Thor, Hulk, Ant-Man, amongst many others, Lee was the main source for creating all the well known superheroes of today.
Stan Lee is also a war veteran. He entered the United States Army in 1942 as a member of the Signal Corps. He repaired telephone lines then later transferred to the Trainer Film Division.
He wrote manuals, training films, slogans, and ultimately he began cartooning earned the title "playwright" that only 9 men have earned in the U.S. Army. One week Lee received a letter with a return address to Timely Comics that started his career and also could've potentially ended it when he was almost sent to Leavenworth Prison.
In the 1950's DC Comics was on the rise with revamping of The Flash amongst many other characters along with creating the new well-known superhero team Justice League Of America.
In competition with this, publisher Martin Goodman assigned Lee with the task of creating a new superhero team. Instead of having these godly characters, Lee brought his heroes down to earth as normal humans dealing with relatable real world problems. With this drastic change from the superhero genre, Lee and artist Jack Kirby created the Fantastic Four in 1962.
Lee went on to help create other heroes like Spider-Man, Iron Man, X-Men, Daredevil, Doctor Strange, The Avengers, amongst many others.
Later on in his career Stan Lee became the face of Marvel. He started making appearances at conventions as well as helping to produce and develop the Marvel TV and movie properties in 1981.
In 1990 Lee stepped away from Marvel and his regular duties. Marvel filed for bankruptcy with DC on the rise, with Marvel selling most of its properties to different studios. Spider-Man went to Sony, X-Men and Fantastic Four went to Fox, etc.
In 2008 Marvel started the MCU with Iron Man as the first in the ongoing 20+ film universe.
Stan Lee is most known for making his cameos in these movies.
His immediate cause of death was listed as cardiac arrest with respiratory failure and congestive heart failure.
Comic Book fans all over the world no matter them being DC or Marvel fans will continue Stan Lee's legacy for centuries and will mourn his passing for years to come.