Cano and Diaz join Mets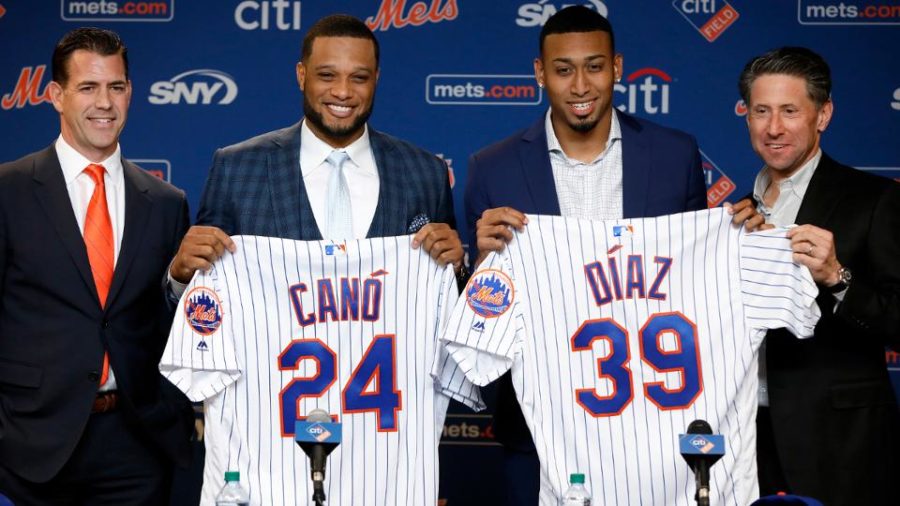 On Saturday, December 1, 2018, The New York Mets and the Seattle Mariners agreed to a trade that would send second baseman Robinson Cano, right handed pitcher Edwin Diaz and $20 million to the Mets in exchange for outfielders Jay Bruce and Jarred Kelenic, right handed pitchers Anthony Swarzak, Justin Dunn, and Gerson Bautista.
This deal really does not make sense for the Mets.
New General Manager, Brodie Van Wagenen, has voiced his desire to create a win now team.
Being a team built around starting pitching, a win now attitude is needed because the window to win is much shorter, so that is why the deal was made. However, the Mets are not in a position to win now.
They went into the 2018-19 offseason needing a closing pitcher, a relief pitcher, a second baseman, a catcher, and a center fielder. No win now teams need that many pieces.
This trade eliminates two of those five needs. Filling those needs did not need to be done via a trade.
This year's free agent market is loaded with top notch relievers and several infielders. There are better options out there.
Cano, an eight time All-Star, is still a good player even being 35 years old, but has 5 years and $120 million owed on his 10 year contract that he signed in December of 2013. Oh yeah, he was also busted for steroid use last season and was suspended 80 games for it.
Also the Mets new GM, Brodie Van Wagenen, was the agent that helped land Cano the 10 year $240 million contract. So he has a soft spot for one of his clients.
Despite playing in only 80 games last season, Cano was still productive. He produced a 3.2 WAR (according to Baseball Reference) and an OPS+ of 136. But how much is left in the tank for the soon to be 36 year old?
Acquiring Cano was more of a getting a big name move rather than acquiring a good talent move.
As mentioned, there are many infielders the Mets could have targeted that would not cost $20 million a year.
Bringing back Daniel Murphy or Asdrubal Cabrera would have been nice, inexpensive, not long term commitments, but both have problems defensively and don't fit with a National League team.
Two other names, despite having down seasons, are Jonathan Schoop and Josh Harrison.
Schoop, only 27, was an All-Star in 2016 and has hit a least 20 home runs in each of the last 3 seasons. That would have added much needed right handed power into New York's lineup. Plus, Schoop was only scheduled to make $10.1 million in arbitration prior to being non-tendered by the Brewers, so half of what Robbie Cano will be paid annually.
Another option was Josh Harrison, who had his $10.5 million option declined by Pittsburgh in October.
Harrison, 31, is a 2 time All-Star and has seen playing time all over the diamond, primarily at second base and third base, two needs for the Mets.
Grabbing Cano brings him back to the city where he first started. However, there were probably better options in the free agent market to sign rather than trading for a 35 year old who has 5 years left on his contract.
All-Star closer Edwin Diaz was also acquired in the deal.
Every win now team needs a lock down closer, which Diaz is.
Diaz, 24, is under team control through the 2022 season. In 73 ⅓ innings in 2018, he struck out 124 batters while posting a 1.96 ERA and a league leading 57 saves.
Grabbing Diaz was the right move to make. The prospect price for elite relievers in today's game is extremely high. The Mets have to give up 2 of their top 5 prospects in the deal, but in return they are getting an elite closer.
But again, there are free agents who could have filled this void.
Craig Kimbrel, David Robertson, Adam Ottavino, Zach Britton, Andrew Miller and Jeurys Familia are among the top free agent relievers available.
They will make more than Diaz in 2019, as he is entering his third and final year of contract renewal, but by using some of the money saved by not trading for Cano, two of those relievers could have been signed.
Van Wagenen can still sign two of them if he wants, but he still needs to figure out the catcher and center field situations.
Acquiring Cano and Diaz helps fill two major voids on the Mets roster, but the deal did not need to be made with how the roster is currently structured and how the free agent class is.