President George H.W. Bush passes away and leaves an amazing legacy of public service
"The 'American Dream' means giving it your all, trying your hardest, accomplishing something. And then I'd add to that, giving something back. No definition of a successful life can do anything but include serving others." – George H.W. Bush, June 2, 1995, in an interview with the American Academy of Achievement.
On November 30, 2018, George Herbert Walker (H.W.) Bush passed away in his Houston home at the age of 94, surrounded by several friends, members of family, doctors, and a minister. Bush is leaving behind not only a multifaceted legacy, but also family and friends. His death, announced by his office, came less than eight months after that of his wife for 73 years, Barbara Bush, who passed away on April 17, 2018.
Longtime friend and former secretary of state, James A. Baker III, arrived at his Houston home on Friday morning to see how Bush was doing.
"Where are we going, Bake?" he asked.
"We're going to heaven," Mr. Baker answered.
"That's where I want to go," Mr. Bush said.
His son, George W. Bush, former President of the United States, when the end was near, was put on speaker phone to say goodbye to his father. He told him that he had been a "wonderful dad" and that he loved him.
"I love you too," Mr. Bush told his son.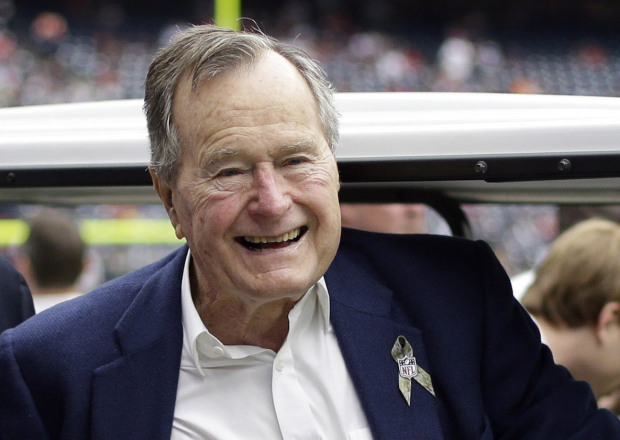 Those were his last words.
On Friday, November 30, Barack Obama, the 44th president of the United States, said in a statement that America had "lost a patriot and humble servant," and that "It's a legacy of service that may never be matched, even though he'd want all of us to try."
Bush, the nation's oldest living former president, had vascular parkinsonism, a condition caused by one or more small strokes, rather than by gradual loss of nerve cells. In April, he was admitted to Houston Methodist Hospital, a day after Barbara Bush's funeral, "after contracting an infection that spread to his blood," a family spokesman told The Washington Post. He was also hospitalized in December 2014 for shortness of breath and in Maine in 2015 after he fell in his summer home, breaking a bone in his neck. In 2012, he spent Christmas in intensive care for a bronchitis-related cough, among other health issues.
Bush was born in Milton, Massachusetts on June 12, 1924, to Prescott Sheldon Bush and Dorothy Walker Bush. Prescott was an American banker and politician, serving the United States as a Connecticut Republican senator from 1952 to 1963. Bush's parents moved their family to Greenwich, Connecticut, when Bush was only a child. Despite his family being wealthy, Bush was raised to be modest, learning the importance of giving back to society.
Once he was a teenager, Bush attended Phillips Academy Andover, a prestigious boarding school in Massachusetts. At the academy, Bush was the captain of the baseball and soccer team, and senior class president. He graduated when he turned 18, in 1942.
After the attack on Pearl Harbor on December 7, 1941, Bush enlisted in the United States Navy on his 18th birthday, becoming one of the youngest aviators in the U.S. Navy.
A memorable moment while Bush was enlisted in the U.S. Navy was when he barely escaped being beheaded and tortured by Japanese soldiers when he was shot down over the Pacific ocean in the Second World War. Lt George Bush, 20 at the time, was among nine airmen who were shot from their planes during bombing raids on Chichi Jima, an island in Tokyo, in September 1944. He was the only one to evade being captured by the Japanese.
While he was still in the navy, he married Barbara Pierce in Rye, New York on January 6, 1945. He met Barbara at a country club in Greenwich in 1941 during the Christmas holidays. Their marriage was followed by six children: George W.(b. 1946), Robin (b. 1949-1953), Jeb (b. 1953), Neil (b. 1955), Marvin (b. 1956), and Dorothy (b. 1959).
Bush served in the navy until September 1945, when he attended Yale University. Once graduating in 1948, he moved his family to Odessa, Texas where he entered the oil business as an equipment clerk. The family briefly moved to California, but moved back to Midland, Texas in 1950. During this time, Bush worked in the oil industry as a salesperson for Dresser Industries.
Additionally, Bush and a friend founded an oil business in Midland. Three years later, in 1953, they merged with another business to form Zapata Petroleum. A year after, Bush became president of Zapata Off-Shore Company, which made and improved drilling equipment. Soon after, he moved the company and his family to Houston, Texas. By 1964, Bush was a millionaire by the age of 40.
After founding his oil business, Bush became involved in politics. Unfortunately, he lost his first election for the U.S. Senate in 1964, but fortunately won the election to the House of Representatives from Texas's 7th district in 1966. He was re-elected in 1968 but was defeated for election to the Senate again in 1970. In 1971, President Richard Nixon appointed Bush as Ambassador to the United Nations, and in 1973, Bush became the Chairman of the Republican National Committee.
In 1974, President Gerald Ford appointed Bush as Chief of the Liaison Office in China and later made Bush the Director of Central Intelligence. Bush ran for president in 1980 and was defeated in the Republican primary by Ronald Reagan, who chose him as his running mate. During his eight-year tenure as Vice President, Bush headed task forces on deregulation and the war on drugs.
George H.W. Bush served as the 41st United States president from January 20, 1989 to January 20, 1993. Prior to presidency, Bush served as the 43rd Vice President of the United States from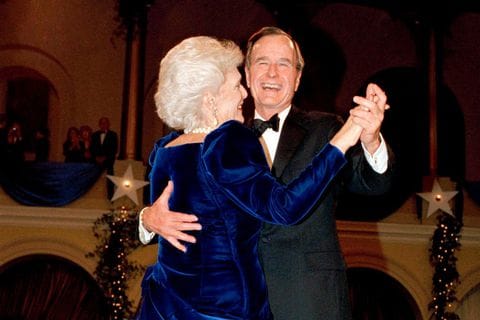 1981 to 1989. As a member of the Republican Party, he had previously been a U.S. Representative, Ambassador, and Director of Central Intelligence. During his career, he was known just as George Bush.  After his eldest son George W. Bush became President of the United States in 2001, he was referred to as "George H.W. Bush," "Bush 41," or "George Bush Sr."
When Bush ran for president, he defeated Democratic opponent Michael Dukakis. Foreign policy was the center of the Bush presidency, such as military operations conducted in Panama and the Persian Gulf, the fall of the Berlin Wall in 1989, and the Soviet Union dissolving two years later. Bush also signed the North American Free Trade Agreement (NAFTA), which created a trade block consisting of the United States, Canada, and Mexico.
After leaving office in 1993, Bush was active, often alongside his former opponent Bill Clinton, in humanitarian activities. With George W. Bush's victory in the 2000 presidential election, Bush and his son became a father–son pair to serve as president, following John Adams and John Quincy Adams. Bush's second son, Jeb Bush, served as the 43rd Governor of Florida and sought the Republican presidential nomination in 2016. Neil Bush and Marvin Bush are both American businessman, and Dorothy Bush Koch, the only living daughter of Bush, is an American author and philanthropist.
It is without a doubt that George H.W. Bush has lived a long and accomplished life.