Celebrating Women's History Month – the women who fight the gender pay gap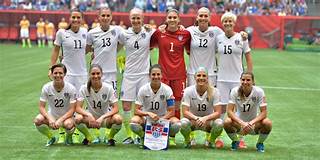 "Everyone thinks women should be thrilled when we get crumbs, and I want women to have the cake, the icing and the cherry on top, too."
— Billie Jean King, a female tennis pro who led the way for pay equality in her sport
The United States Women's National Soccer Team (USWNT) have been the frontrunners in women's national soccer for not only wins, but also for closing the pay gap between professional women and men soccer players.
With the SheBelieves Cup, an invitational women's association soccer tournament, occurring concurrently with Women's History Month, their fight for women acceptance and equal treatment in the profession is more important than ever.
According to the official United States Soccer website, SheBelieves is defined as "a movement  to inspire young girls and women and encourage them to accomplish their goals and dreams, athletic or otherwise." Through SheBelieves, USWNT players have been able to form a special bond with their fans, especially a new generation of females, employing a message of empowerment and hope.
The campaign officially launched in 2015, leading up to the Women's World Cup.
Following their win at the 2015 Women's World Cup, the team started a Victory Tour which lasted 10 days. Members from the team went to various places throughout the country and met with many women in many different professions, where they spoke about being leaders, advocates, game-changers, and, most importantly, role-models.
The women's professions vary greatly: entrepreneurs, firefighters, chefs, and all the way to park rangers, but the single similar thread of perseverance and hard work, two characteristics embodied by the SheBelieves spirit, was present, which led them to obtain success in their own fields.
This year, for the 2019 SheBelieves Cup match on March 2 versus England, each USWNT player chose a woman in history or today's world; a woman who they feel inspired by them. Each player had the woman's name they chose on the back of their jersey.
Crystal Dunn (26), for example, chose Serena Williams and said, "I love her. Serena Williams has been my idol for a very long time. I actually watched her play before I was even watching women's soccer. She inspired me to be an athlete and inspired me to want to be at my best. She's someone that has broken down so many barriers and that's hard to even put into words."
Another example is Carli Lloyd (36), who chose Malala Yousafzai and said, ""Malala is someone who stood up for what she believed in even though she knew she could be killed for it. Even after being shot and almost dying she has continued to fight for and inspire women around the world."
A full list of the women the players picked along with the reason as to why can be found here.
The women of the USWNT, besides being role-models and dedicating a game to influential women and what they stand for, have done other things centered around women empowerment and progress.
On March 4, 2019, the USWNT kicked off a partnership with Secret Deodorant on their new "All Strength, No Sweat" campaign which honors women to pursue their goals without "sweating" the difficulties in their path.
And on March 5, 2019, the USWNT announced they have joined with IF/THEN, a Lyda Hill Philanthropies initiative furthering women in science, technology, engineering, and mathematics (STEM). IF/THEN, whose slogan is "if we support a woman in STEM, then she can change the world," helps support women already in STEM as well as inspire the next generation to pursue careers in STEM.
United States soccer will work with IF/THEN to hire women into new, full-time positions.
"Our Women's National Team is one of the most successful teams in the history of sports. That success would not be possible without the medical experts and sports scientists that support our athletes. We are proud to collaborate with IF/THEN and Lyda Hill Philanthropies to raise the profile of the women in STEM at U.S. Soccer to show youth that even if you do not take the field in the World Cup, by pursuing STEM you can still be part of our team," United States Soccer CEO/Secretary Dan Flynn has said.
The USWNT have obviously made an impact, as on Friday, March 8, 2019, Adidas announced it will provide the same bonuses to its sponsored players on the winning Women's World Cup team as it has to their male counterparts. Adidas is promoting the motto "Equal pay for equal play."
"We believe in inspiring and enabling the next generation of female athletes, creators and leaders through breaking barriers," Adidas executive board member Eric Liedtke said in a statement.
This announcement from Adidas is following recent news that all 28 players of the USWNT have sued the United States Soccer Federation (USSF) for "institutionalized gender discrimination." The lawsuit criticises unequal wages, claiming female players are consistently paid less than male players despite their superior performance.
The women's team have been Women's World Cup champions three times and Olympic winners four times, while the men's team has never won either tournament and did not qualify for the 2018 World Cup. The Equal Employment Opportunity Commission (EEOC) have given the team the go-ahead to sue in federal court.
This is the team's next step after their Equal Employment Opportunity Commission discrimination complaint from 2016 has started to lose track.
Needles to say, the team has been in a conflict with the USSF, concerning their treatment, for many years. Complaints include things such as wages, playing conditions, training standards, all the way down to medical treatment. Because of this, the USWNT has negotiated with the USSF countless times to try and reach a common ground and make some progress. After the team and USSF created a new CBA in April of 2017, issues seemed to have died down. Now, however, the lawsuit filed by every USWNT member shows the players are still not satisfied with their treatment by the USFF.
"We've always, dating back to forever, been a team that stood up for itself and fought hard for what it felt it deserved and tried to leave the game in a better place," Megan Rapinoe (33), a forward for USWNT, told The New York Times on Friday.
According to The New York Times, female players for the United States team have a starting salary of $72,000 which is supplemented with a bonus of $1,350 per win, whereas male players receive a pre-game bonus of $5,000 per game and another bonus of $3,166 per win.
A graphic made by Business Insider deduced that even if both teams were to lose all 20 required games, the men would still make $100,000 while the women would only make $72,000. That is a $28,000 difference.
The difference for winning a big competition such as the World Cup is even bigger. For winning the 2015 Women's World Cup, the USWNT received a $75,000 bonus. If the men's team ever were to win a World Cup, their bonus would be $400,000.
After researching all of this, I conducted a one question interview with one of USWNT's superfans, who is female and has been to one of their games.
"Being a female fan of the USWNT and going to one of their games, what do you think about their fight for equal wages/treatment?"
"I think it's necessary and long overdue. They work just as hard as the men's national team and have even more World Cup titles than them."
It is obvious there is an evident issue with the pay gap between the United States women and men's teams. However, the pay gap between men and women also exists in other national soccer teams and even in other sports, such as tennis.
Furthermore, it is without question the players on the USWNT are doing remarkable things for not only themselves, but also the next generation of women, and some of them just might find themselves on the field one day as well.