Celebrating Women's History Month – the woman who fights to show women's worth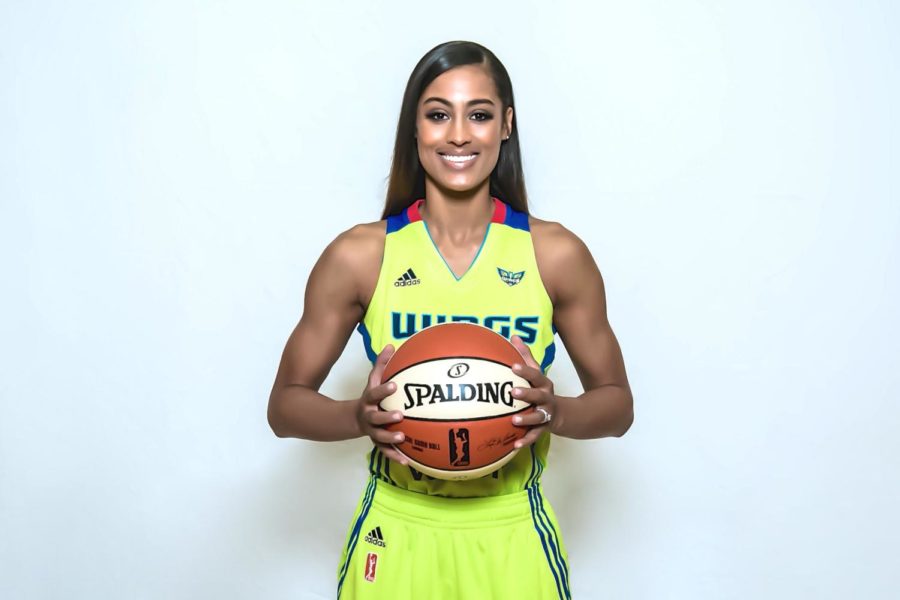 Skylar Diggins-Smith is a WNBA player who is the point guard of the Dallas Wings and played for Notre Dame. As a highly talented WNBA player, she has spoken up recently about the NBA and WNBA pay inequality.
She is a prominent advocate for equal pay in the WNBA compared to the NBA and a role model for a number of young female athletes. Her personality and actions help emulate why she is important to International Women's Day.
Diggins-Smith specifically compared her salary to NBA player Harrison Barnes, who played for the Dallas Mavericks from 2016-2019.
She addressed that she is paid in the low six-figure range, while Harrison Barnes was being paid $24 million with Dallas.
Barnes has fewer career achievements than Diggins-Smith, who has been a WNBA All-Star four times and a two time All-WNBA First Team honor recipient.
Diggins-Smith signified that WNBA players, not just herself, make much less than the NBA players, other than Harrison Barnes.
The WNBA salaries cap out at around $115,000 which is significantly less than the lowest paid bench player in the NBA.
Diggins-Smith is focused on the idea that WNBA players should be able to earn a bigger portion of the league's revenue, not that women's players should be paid the same amount.
NBA players receive 50% of their league's annual revenue whereas WNBA players only receive around 20% of their league's revenue.
That is the reason behind why Barnes, a skilled player, but not an All-Star, can make more than 208 times the salary of a top-3 point guard in the WNBA.
WNBA players don't receive a percentage of their jersey sales and have to travel commercially instead of on charter flights.
"So before we even talk about base salary or anything like that, we don't even get paid the same percentage of revenue that we bring in, which is kind of unbelievable. People try to hijack this issue and say that women's basketball may not be as interesting a game, because they disparage women in sports, period. But we don't even make the same percentage of revenue! And jersey sales…we don't get any of it. The men do. And I have had a top-five jersey for three or four years in the WNBA," Diggins-Smith expressed to Anna Peele of Wealthsimple on August 21, 2018.
Diggins-Smith also raises the point that the WNBA has a problem functioning currently because such a high percentage of players go overseas to play during the offseason.
For the players that participate in both, the WNBA season ends in September and the overseas seasons start around October so the time to rest is limited.
"You have women playing year-round basketball going overseas to have more opportunities for higher wages. I've never been overseas to play. I'm with Roc Nation, where I'm the only woman signed, and I take my off-season and use it to explore other opportunities, to work with different brands and explore different marketing opportunities that Roc Nation and I decided to pursue, like my basketball camps. But 90% of the league goes overseas. And so these women are playing year-round, which is terrible for your body. It's so much wear and tear," Diggins-Smith addressed as she spoke about the difficulties the wage gap poses.
Diggins-Smith also discredits the WNBA and ESPN for the lack of help in making the league more popular and sustainable.
"People always talk about, 'Well, you gotta have more people in the seats.' But nobody puts us on TV! We have a competitive game, great match-ups; everything that would yield people wanting to see us, plus the success of women's college basketball. But you rarely see the WNBA on the "Worldwide Leader in Sports": ESPN. You rarely see them talking about women's sports in general, let alone highlights of the WNBA games," Diggins-Smith commented about the disrespect from ESPN.
"I would be curious to know how successful we could be with such a great product if we had the same platform as the guys do. Think about the marketing dollars that they spend on guys, the platform given to them. Branding opportunities, TV deals, endorsement deals. It's kind of like the chicken and the egg," she reported, speaking on the WNBA creating opportunities for the players.
She hopes for more advocates that are male to step up and help the fight, and she appreciated Dwight Howard and Kobe Bryant for attending women's games.
"As athletes, we have to fight. As women, we have to fight. And we need more people at our table to fight with us. And we need men speaking out about these things," Diggins-Smith told Wealthsimple.
She spoke of the pay discrepancy of the WNBA in comparison to the NBA, the lack of marketing for those female athletes in the league, and the failure of ESPN to display the WNBA in a story on Wealthsimple.
In 2018, a new advertisement released by Wealthsimple that addresses the pay inequity of the WNBA included two star basketball players, a boy and a girl, who reveal their rookie contracts as being worth $4 million for the boy and $40,000 for the girl then cuts to Skylar Diggins-Smith and reveals her position to fight for fair pay.