How are the Yankees so good?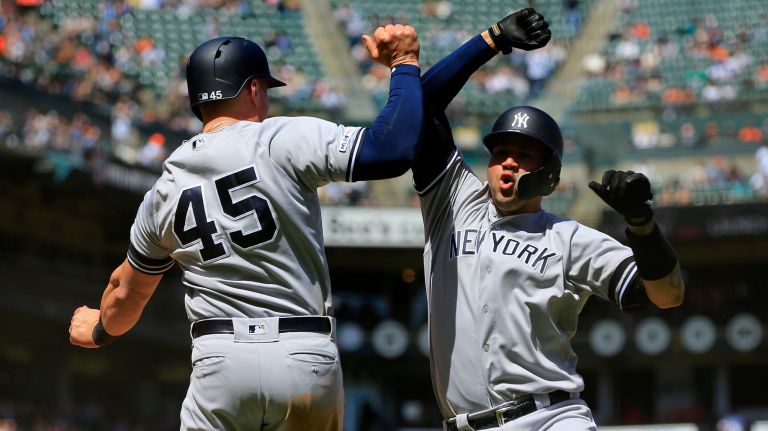 During the offseason, general manager Brian Cashman referred to the Yankees as "a fully operational death star."
Well, a month into the MLB season, the Yankees are second in the American League East with a 17-11 record. They are only 1.5 games behind the surprising first place Tampa Bay Rays.
From what Cashman said in the offseason, the first month would be taken as a disappointment as much more was expected from the Bronx Bombers.
What was not expected was all the injuries that have happened.
Currently on the Injured List for New York is Aaron Judge (oblique), Giancarlo Stanton (bicep/shoulder), Didi Gregorius (Tommy John), Luis Severino (shoulder), Dellin Betances (bone spur in shoulder), Aaron Hicks (back), Greg Bird (foot), Troy Tulowitzki (calf), Miguel Andujar (torn labrum), Clint Frazier (ankle), Jordan Montgomery (Tommy John), Ben Heller (Tommy John), and Jacoby Ellsbury ("things").
Oh, and 2 key players who were replacing players with injuries DJ LeMahieu and Gio Urshela left Sunday's game with injuries.
Even with all the injuries, the expectations of a championship have not changed for the 2019 season.
Injuries are not an excuse even though having replacement players take over the roles of former All-Stars is a perfect excuse.
That has not been the case for the Yankees.
Following a 3 game sweep of the San Francisco Giants, they have won 11 of their last 13 games and have the best record in the majors since April 16.
The next man up has been used a ton this season and the next man up has stepped up.
Clint Frazier was hitting .324/.342/.632 with clutch homers since his call up. But we can't have nice things so he got hurt.
Mike Tauchman and Tyler Wade have both played well filling in the outfield, but none has been able to replicate Judge's production, which is no surprise.
After a slow start, Brett Gardner has been hitting for a ton of power replacing Aaron Hicks in center.
Gio Urshela is known primarily for his defense, but has surprisingly hit .351/.415/.509. Again, we can't have nice things and Urshela was hit by a pitch during Sunday's game and is currently day to day.
DJ LeMahieu and Gleyber Torres have filled in nicely in new everyday roles and Gary Sanchez is bouncing back in a big way following a disastrous 2018 season with .996 OPS over 15 games this season.
Although first baseman Luke Voit is not injured, he is showing the his 2018 August-September was no fluke.
He was moved up to the number 2 hole in the batting order following Judge's injury and has raked.
Voit has a 39-game on base streak, going back to last season and is the team leader in home runs (8) and RBI (25).
Not only have the hitters stepped up to make sure the Yankees don't skip a beat, the starting rotation has been better than advertised.
James Paxton is healthy and is looking like an ace. Over his last 3 starts, he is 2-0 with a 1.37 ERA over 19 ⅔ innings while striking out 32 batters.
Domingo German has impressed going 5-1 in 6 games and throwing to a 2.79 ERA.
Masahiro Tanaka and CC Sabathia are continuing their consistency and JA Happ is looking like he is turning the corner after throwing 7 shutout against San Francisco.
The bullpen continues to be a strength of the team dominating the later innings of a ballgame.
So even with 13 injuries, the Yankees are still producing which is all you can ask for.
The next man up is producing and they just have to continue to stay above .500 until some key players come back from their injuries. The injured players will take the team to the next level.
Now if only the Boston Red Sox could have won a couple of games against the Rays over the weekend, the Yankees would be in first place.