UCF suffers devastating loss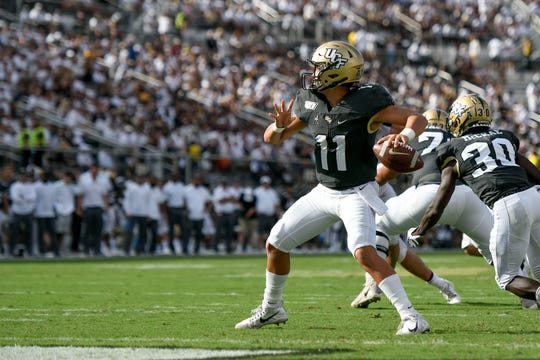 The University of Central Florida Knights experienced a devastating loss this Saturday September 21 against the University of Pittsburgh. After being undefeated in their regular season for the last three years, Pitt beat them 34-35 at Heinz Field in Pittsburgh.
The loss marks the first time since November 26, 2016 that the Knights lost a regular season game. The Knights won 27 consecutive regular season games prior to the loss on Saturday against Pittsburgh.
"I just think that we did some things – coaches and players – that you can't do on the road if you want to beat a good football team," said Head Coach Josh Heupel. "This one is going to hurt for a while, but we'll get back on Monday and get back after it."
The University of Central Florida has become one of the most talked about universities in all of college sports over the last three years, this is because of their regular season undefeated streak. The school generated most of its buzz after their undefeated season in 2017. 
After the 2017 season, the UCF Knights proclaimed themselves as the national champions of college football after defeating Auburn by a score of 34-27 in the Peach Bowl. The Knights finished the 2017 season 13-0 with a bowl victory.
So now what?  Well, UCF's playoff run is now over. According to ESPN, UCF has a 0.01% chance of making the college football playoffs this year, and proving that they deserve to be there with other top 10 teams. 
However, there is a very bright future for the Knights.
Over the off season, UCF was able to get their hands on freshman quarterback Dillion Gabriel, one of the top quarterback recruits in the country. So far this season, Gabriel has proven to be an elite part of the UCF offense, and will be extremely valuable in years to come since he is only 18 years old.
UCF is a controversial team in many people's eyes. Some say that the Knights are overrated and cannot hang with big schools in other more competitive conferences. Others say that the Knights can beat top caliber teams, and, because of their previous success in bowl games, UCF is the top football team in Florida.
The UCF Knights still have seven regular season games remaining in their schedule with the opportunity to play two additional games depending on how they finish this season. UCF must quickly move on from this loss as they play UCONN on Saturday, September 28 in Spectrum Stadium in Orlando, Florida.