Key witnesses testify at House impeachment trial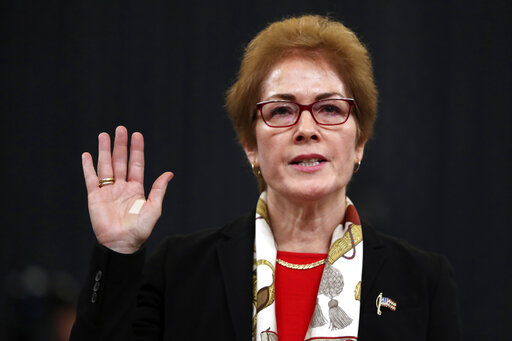 On November 20, the House Judiciary Committee began conducting impeachment hearings on President Trump investigating  possible actions of bribery, high crimes and misdemeanors. 
The impeachment inquiry was introduced by Speaker of the House Nancy Pelosi. Pelosi and House Democrats believes that President Trump has been in communication with Ukraine's President Volodymry Zelensky, and that he has been pressuring Zelensky to find incriminating evidence against his Democratic challenger Joe Biden. 
The president is accused of withholding $400 million in military aid to Ukraine that had already been granted by Congress and a White House meeting for Zelensky.
House Democrats see his actions as an abuse of presidential power, using the office and his position for personal political gain and they say he is a detriment to national security because Ukraine will be using this money in an ongoing war with Russia.
There have been multiple testimonies given during the hearings, including testimonies from US Ambassador Marie Yovanovitch and Foreign Affairs Specialist Fiona Hill. 
Ambassador Yovanovitch testified on November 22.
Yovanovitch served as the US Ambassador to Ukraine for nearly three years before being abruptly recalled by Trump in May 2019.
Yovanovitch said that the Deputy Secretary of State explained the sudden firing by saying, "He said that the president had lost confidence in me and no longer wished me to serve as his ambassador. He added that there had been a concerted campaign against me, and that the department had been under pressure from the president to remove me since the summer of 2018."
She said she was later told by the Secretary of State Mike Pompeo that he was trying to protect her from Trump.
"They were worried that if I wasn't physically out of Ukraine, that there would be, you know, some sort of public either tweet or something else from the White House."
Yovanovitch stated that she was "shocked and devastated" that she featured in the phone call between President Trump and Zelensky and that she was referred to as "bad news" and that she would be "going through some things." 
Although it is unclear what Yovanovitch will be going through, she believes that this all started because of President Trump's attorney Rudy Giuliani.
"I do not understand Mr. Giuliani's motives for attacking me, nor can I offer an opinion on whether he believed the allegations he spread about me. What I can say is that Mr. Giuliani should have known those claims were suspect, coming as they reportedly did from individuals with questionable motives and with reason to believe that their political and financial ambitions would be stymied by our anti-corruption policy in Ukraine."
Another key testimony given in the hearings was from Foreign Affairs Specialist Fiona Hill who had testified on November 21.
Hill was White House's top Russia security expert that testified that the ex-US National Security Advisor John Bolton was worried about efforts to push Ukraine into investigating Trump's political rivals. 
"And he then, in the course of that discussion, said that Rudy Giuliani was a hand grenade that was going to blow everyone up… He was frequently on television making quite incendiary remarks about everyone involved in this, that he was clearly pushing forward issues and ideas that would, you know, probably come back to haunt us, and in fact, I think that's where we are today."
During her testimony Hill addressed the emails sent between Trump and United States Ambassador Gordon Sonland and how there was a "quid pro quo" and that "everyone was in the loop. It was no secret."
Hill recounts a meeting with Sonderland where she was angry about what he was doing, about keeping the National Security Council out of the loop. She said she then realized that he had permission from all of the senior officials, including the president himself, that they all knew what Sondland was doing. 
"It struck me when, yesterday, when you put up on the screen Ambassador Sondland's emails – and who was on these emails? And he said these are the people who need to know, that he was absolutely right because he was being involved in a domestic political errand, and we were being involved in national security foreign policy, and those two things had just diverged."
The House Judiciary Committee released a report on Saturday December 7 ahead of the Monday hearing laying out arguments for impeachment.  
The report does not implicate there will be an impeachment, but it displays evidence that will be presented against Trump by the House Intelligence and Judiciary Committees, as well as potential article of impeachment next week.
"The Framers worst nightmare is what we are facing in this very moment," House Judiciary Chairman Jerry Nadler said in a statement. 
"President Trump abused his power, betrayed our national security, and corrupted our elections, all for personal gain. The Constitution details only one remedy for this misconduct: impeachment. The safety and security of our nation, our democracy, and future generations hang in the balance if we do not address this misconduct. In America, no one is above the law, not even the President."
A Democratic official working on the inquiry did not comment on whether or not there will be a hearing after Monday. The official also did not say when article of impeachment may be introduced or if evidence from the Mueller Report would be included.
"No decision has been made to recommend any article of impeachment," the official said.
They plan to argue that Trump's abuse of power "betrays national security" and involves "corruption of our electors."
On Saturday evening, Republican Representative Doug Collins requested to postpone the hearing.   
"Chairman Nadler has no choice but to postpone Monday's hearing in the wake of a last-minute document transmission that shows just how far Democrats have gone to pervert basic fairness," Collins said in a statement.
This document accuses Democrats of transmitting  "thousands of pages of documents to House Judiciary Republicans less than 48 hours before Judiciary's hearing scheduled to examine impeachment presentations from Intelligence and Judiciary Committees."