President Trump released from Walter Reed National Military Center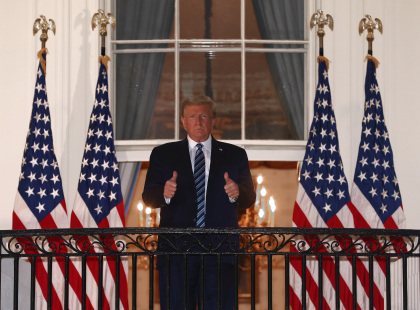 President Donald Trump was discharged from Walter Reed National Military Center in Bethesda, Maryland on Monday, October 4th. 
As the Trumps were asked to isolate themselves in their new home for the next 14 days, Donald Trump didn't listen. With Trump being a long time germaphobe, he was very eager to leave the National Military Center. 
Since his last visit to the hospital, a White House physician said that "he may not entirely be out of the woods yet." 
Recent sources have said that Trump has gotten another COVID test which has come out negative. But when he was in the hospital, he didn't stay too long. Trump had stated that with him being hospitalized it would "make him look weak." 
 "He's stable in a way he can be followed at home and [doctors] feel comfortable he doesn't need ICU(intensive care unit)-level care," said ICU physician Lakshman Swamy. The President has been on 24/7 surveillance for his health and also might have exposed the secret service staff at getting covid.
During the 24 hours Trump had been in Walter Reed's Medical Center, Sean Conley — President Trump's physician — said, "Over the past 24 hours, the President has continued to improve. He's met or exceeded all standard hospital discharge criteria." 
 "Don't be afraid of Covid. Don't let it dominate your life. We have developed under the Trump Administration, some really great drugs and knowledge." Trump had tweeted on Friday Oct. 5th and also added that he, "feels better than I did 20 years ago." 
From the tweet he made, Trump has received a lot of backlash and hate all over social media. Many people had started making hashtags, #TrumpCoivdHoax and #TrumpLied200KDied. Both of these hashtags appeared on top trends a day or so later after being made.