We should have her back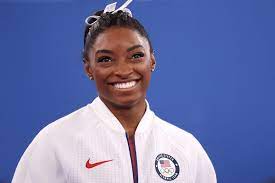 After a crazy year with the pandemic in 2020, the olympics were finally held from July 23rd – Aug 8 2021. 
Simone Biles, the four time olympic gold champion, withdrew from the olympics after feeling a heavy load of pressure as Team USA's biggest star. 
USA Gymnastics released a statement on July 31 stating, "After further consultation with medical staff, Simone Biles has decided to withdraw….we remain in awe of Simone who continues to handle this situation with courage and grace…"
Biles decided to specifically withdraw from the individual all-around, vault, bars, and floor finals in order to protect her mental health. 
Biles goes on to post an emotional response on her Instagram saying, "The outpouring love and support I've received has made me realize I'm more than my accomplishments and gymnastics which I never truly believed before."
Team USA went on to win silver in the team event, and Biles's teammate Suni Lee won gold in the individual — the fifth American woman in a row to do so. 
Five years ago, Biles became a star overnight at the 2016 Rio Olympics when she won three individual gold medals: in the all-around, the vault and the floor exercise. However, this time around it was too much of a burden for her to be the face of the sport which added pressure. 
In an interview with Mike Tirico from NBC, Biles was asked to name the happiest moment of her career to which she replied, "honestly, probably my time off."
Biles mentions to New York Times how she sacrificed her normal life to achieve her perfection for gymnastics. She missed the normal life of a teenager sacrificing school, going to football games, and spending time with friends.
Biles's talk about mental health is the inspiration fellow teammates, young girls and many people need during the Olympic Games. Although many people supported her decision considering it's her body and mental health, the other half of the world destroyed the media with hate messages saying she let her country down and acted selfishly. 
"I stand by Simone Biles' decision to withdraw from certain events during the Olympics. I think that an individual's mental health and well being is more important than competing for other people. She has to feel her best in order to perform her best," said Julia Kropo, a student from Naugatuck High School. 
Dropping out of the team was a very difficult decision Biles had to make but her mental health was more important to her which is understandable as an athlete everyone is looking forward to. 
"I simply got so lost my safety was at risk as well as a team medal. I don't think you realize how dangerous this is on hard/competition surfaces," she added. "Nor do I have to explain why I put my health first. Physical health is mental health," told Biles to cbsnews.
After being evaluated another time to check how the athlete is doing, Biles decided to take part in the balance beam event after withdrawing, where she won a bronze medal for the team.
Biles has stated she may return to the 2024 Olympics which will take place in Paris but has thought about ending her competitive career in Tokyo for now.