Two killed by military vet; family dog killed, too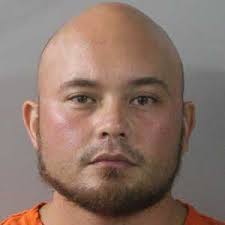 A 3-month-old baby, mother, family dog and 3 others were brutally murdered over the weekend by a marine veteran who fought in Afghanistan and Iraq on September 5th. Thirty-three year old Florida Bryan Riley of Brandon, Florida claimed the reason he killed them was "because I'm a sick guy" and said voices instructed him to do it. 
Sheriff Grady Judd said Riley had stopped at the family's home on the night before the murder when Gleason was mowing his lawn. Riley told him that he was sent there by God to talk to someone named Amber because she was going to die of suicide. This is where Gleason told him there was no one there named Amber, asking him to leave which he refused. This is where the called law enforcement and Riley drove off ultimately coming back the next day with three guns and a bulletproof vest.
"When our suspect, Riley, left, he was very angry," Judd said according to USA Today. "And he was very angry at Justice because he thought Justice had kept him from seeing this child, Amber, that was going to commit suicide."Riley told the sheriff that when God told him to kill everyone and save Amber it was because she was a victim of sex trafficking. There was no trace of sex trafficking in the home said Judd. 
He set his pickup truck with gasoline as a decoy then entered the building killing 62 year old Catherine Delgado, emptying an entire magazine of his weapon. Then going into the bedroom killing the family's dog. Riley then shot his way through the bathroom door and killed Gleason who was guarding his 33 year old girlfriend, Theresa Lanham, and their 3-month-old son who were killed as well. 
The 11-year-old daughter on the other hand was grabbed to the living room and "tortured" where Riley kept asking where Amber was, shooting her in various parts of her body.

"Do you know why I killed your parents?" he allegedly asked the girl. "They're sex traffickers." According to the Washington Post.
He continued to shoot when unsatisfied with the answers, expecting she was dead. She later survived, telling investigators, "I played dead and I prayed" according to the Washington Post. 
Law enforcement faced a shootout at the house. Riley was shot in the abdomen when a bullet managed to breach his bulletproof vest. He then realized he was outmanned, dropping his weapons and walked outside with his hands up. 
Riley, girlfriend of three years, told investigators he had mental issues but never showed acts of violence
"He had PTSD; I'd seen him depressed. I'd never seen him violent," Judd said she told authorities. She also said how he would say God would tell him to get stuff like buying a $1000 worth of cigars
Detectives think that things changed after Riley started working as a security guard for a church in Orlando, possibly triggering his PTSD again. 
Riley was a Marine who served tours in both Afghanistan and Iraq. He did 4 years serving from 2007 to 2011. The former war hero is now being booked with accused of first-degree murder, attempted first-degree murder, attempted first- degree murder of a law enforcement officer, armed burglary with battery, arson, cruelty to an animal and shooting into an occupied dwelling.
"He said at one point to our detectives, 'They begged for their lives, and I killed them anyway,'" the sheriff said, according to WFLA. "He's evil in the flesh." 
Riley could face the death penalty or life without parole if he's found guilty of the murder charges, according to Florida law.