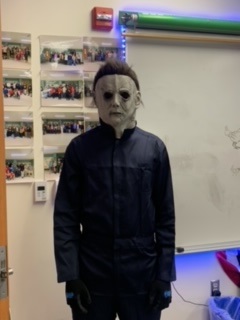 As the clock strikes midnight on October 1st, one question comes to mind: what costume should I wear this Halloween? 2023 has been a year with numerous iconic events, many of which could be turned into fun costumes this spooky season. 
To find out more about this, The Greyhound News held a survey to ask NHS students what they've seen so far. When asked about what costumes they had seen so far, students responded with a wide variety of answers, ranging from classics like angels and devils to ones more relevant to today's culture like Western Barbie.
To arrow down the field of both duo and solo Halloween costumes, the survey displayed options relevant to this year's events and common ideas seen on social media. These options included Barbie and Ken, Rapunzel and Flynn, the Statue of Liberty and a tourist, and so on. An overwhelming majority of 82% picked Barbie and Ken.
When asked about what solo costumes they had seen the most, other options were given such as Barbie, Oppenheimer, Wednesday Addams, Daisy Jones, and more. The answers were slightly more varied, with the majority still being Barbie with 62% of answers, and Wednesday Addams being 29% of students' answers for a common costume. 
It's no secret that the Barbie movie had an immense impact on pop culture this year. It has highlighted women's issues while emphasizing the importance of equality. The movie was key to creating a new, better, perspective on Barbie and the company, Mattel. It looks like Mattel is acknowledging their previous anti-feminist errors and sharing plans for improvement. 
The Barbie movie truly did get through to so many people, so it's no surprise that Barbie took over Halloween this year, as shown in our survey.
Though the popular options are always available, many decided to take their own route. When asked what their own Halloween costumes would be, students shared their own unique ideas such as a polyphemus moth, Chester Cheetah, Maleficent, Ghostbusters, Mavis from Hotel Transylvania, and Summer from 500 Days of Summer. 
Through this survey it was clear how much events that happen throughout each year impact Halloween costumes, but at the end of the day, Halloween costumes are a way to have fun and to be creative. 
Naugatuck High School even conducted their own costume contest. The three winners were Ayad Balu who was dressed as the Ice King from Adventure Time, Chance Bendler as Jesus and, Tafari Downer as Michael Myers.