Naugatuck High School holds a cultural fair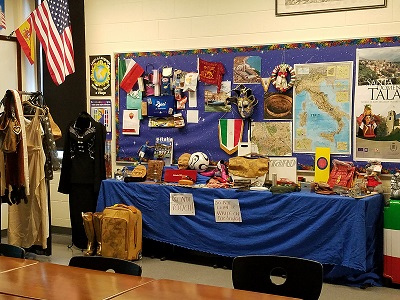 Naugatuck High School's Media Center and World Language department held a cultural fair on March 8th and 9th during what is known as World Language Week.
World Language Week is the celebration of all foreign languages and cultures around the world. World Language Week was founded in 1957 by Alpha Mu Gamma, to show the importance of learning foreign languages. With shrinking population and new ways to travel to different countries, it is important to know different languages and how other cultures live.
During Naugatuck celebration,in the media center, there were different mock countries scattered throughout the space. Brazil , France, Mexico were in the library and, located in the hallway outside the media center, were Spain and Italy.
The stimulation of the countries included food, art, and facts about the country. The decor of the places gave insight on how the people of that country make a living and what they see and experience everyday.
Mrs. Karen Dupre, a French teacher at Naugatuck High School, says, "It is important for the kids to know what other countries are like and to learn from what they see. Everywhere is always different than what you see everyday."
The fair also had bracelets, which were a part of the Pulsera Project. Pulseraproject.org says, "The Pulsera Project is a nonprofit organization that educates, empowers, and connects Central American artists with students in more than 1,600 U.S. schools through the sale of colorful handwoven bracelets." The bracelets were full of colorful pulsera designs and were hand woven different artist in different regions in Nicaragua.
Clayton Watson, a student of Naugatuck High School says, "The color of the bracelet caught my eye, I think the project is for a good cause as well. I think everyone should live their dream and if being an artist is their dream, then I am happy to help."
The cultural fair was a success for Naugatuck High School and it brought great insight and appreciation to different cultures and places in the world.