President Trump has earned a D.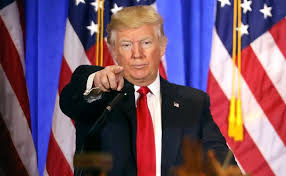 Hang on for a minute...we're trying to find some more stories you might like.
On Saturday, April 26, President Trump will have been in Office for one-hundred days.
The "first one-hundred days" milestone was first marked by the legislative agenda of President Franklin D. Roosevelt. While Roosevelt's conceptualization of the milestone was in reference to the "first one-hundred days" of a Congressional session, the milestone continues to serve as an indication of a new president's political power and efficiency.     
Since the beginning of President Trump's campaign, Trump has been a controversial figure whose rhetoric, policies, actions, and history have been subject to debate in familial, social, legal, and political circles.  
The President's remarks during his presidential campaign regarding  both public policy and social issues have resulted in significant instances of political polarization within the nation. There are clear demographic divisions of gender, ethnicity, and age when examining public attitude/opinion of President Trump.
Generally, support for President Trump is concentrated within non-college educated white males, whereas the most significant opposition of President Trump comes from non-white, female, and non-Christian voters. President Trump's comments regarding immigration, undocumented immigrants, global terrorism, crime, and gender relationships, have prompted negative responses from these groups.
President Trump's lack of political, legal, and military experience have created doubts over his ability to govern.
Prior to his election, President Trump was regarded as a personality and businessman. President Trump had none of the qualifications for public office that were typical of most presidential candidates to have. President Trump had never held any public office, whether local, state, or federal. President Trump does not have a degree or any prior experience in United States law. Also, President Trump has not been enlisted or active in the United States Military.
In March of this year, the American Health Care Act (AHCA) did not receive enough support from Republican representatives to pass a simple majority vote and continue on to the Senate. The bill was rumored to be an effort of both the White House and Republican leadership in the House. Speaker of the House, Paul Ryan, was cited by the media as the main intellect or architect of the bill. The AHCA did not meet the demands of conservative and liberal groups in Congress, the media, and elsewhere, and therefore the bill was short of the amount of votes necessary for it to pass onwards. A report released by the Congressional Budget Office estimated that approximately twenty-four million individuals would lose their health insurance if the AHCA were passed.
(Link for more information on  the American Health Care Act:
https://thegreyhoundnews.com/1793/politics/controversial-new-healthcare-bill-faces-challenges-in-congress/)
Trivial information, for example, a comparison of the margins by which President Trump won the Electoral College and lost the popular vote, have troubled the current presidential administration in the media.
Unproven claims, for example, President Trump's assertion that over three million undocumented immigrants voted in the past presidential election, in states like California, have troubled the current administration, as well. Federal investigations conducted by the FBI and Congress have found no evidence of voter impersonation or fraudulent voting practices in the past election on the scale of which the president claims.   
The ongoing investigation of the Trump Campaign which concerns possible connections between the campaign's affiliates and Russian government and intelligence officials has detracted attention away from the agenda of the Trump Administration.
Former National Security Advisor to President Trump, Michael Flynn resigned after it was revealed to the general public that he was registered as an agent of the Turkish government and held private correspondence with the Russian Ambassador to the United States.
Former Trump Campaign manager, Paul Manafort resigned after his connections to Ukrainian and Russian officials were revealed to the public.
The media has raised questions concerning the relationship between other Trump Administration officials, Carter Page, Stephen Miller, Sebastian Gorka, daughter, Ivanka Trump, and, son-in-law, Jared Kushner, to foreign governments and private businesses.  
There have been significant demonstrations against President Trump. Following the inauguration, the Women's March, the March for Science, the Climate March, and other demonstrations concerning immigration, social justice, tax policy had taken place with considerable support.
(Link for more information on The Women's March: https://thegreyhoundnews.com/1702/politics/womens-marches-after-trump-takes-office-largest-ever-recorded/)
There have been significant protests against President Trump's federal appointments to Executive Departments. Most infamous are Education Secretary Betsy DeVos, Housing Secretary Ben Carson, Health Secretary Tom Price, Energy Secretary Rick Perry, and Attorney General Jeff Sessions.
(Link for more information on the federal appointment of Betsy DeVos: https://thegreyhoundnews.com/1684/politics/betsy-devos-confirmed-as-education-secretary-2/)
President Trump's two executive orders on immigration, which had restricted travel from Muslim-majority nations, with exceptions for religious minorities like Christians and Jews, was determined, but not ruled, to be unconstitutional by federal judges in several states. Due to past comments which have established the intention of the executive order as discriminatory, it likely that the executive order will be ruled unconstitutional, and therefore, invalid.  
(Link for more information on President Trump's executive orders on immigration: https://thegreyhoundnews.com/1641/politics/betsy-devos-confirmed-as-education-secretary/)
The President has made personal attacks on the character of public figures on social media. The President has criticized the mainstream media, politicians, his predecessor, and celebrities.  
Despite many complications, President Trump was able to nominate Judge Neil Gorsuch to the United States Supreme Court, which will affect the ideological balance of the Court from generations.
(Link for more information of the appointment of Judge Neil Gorsuch to the U.S. Supreme Court:
https://thegreyhoundnews.com/1878/politics/the-supreme-court-nomination-process-intensifies/)
Due to President Trump's inability to gain congressional and constituent support for key policy proposals and the several distractions which have weakened the President's authority and image, the President's Trump first-one hundred days should be graded as a D.