Fans are thrilled with Harry Styles's new album
How about we start back on April 7th, the night the directioners were awake all night to hear the first solo song released by former One Direction star, Harry Styles?
The song,  "Sign Of The Time", was released at 6 a.m. GMT, which meant for the US it was 3 a.m.
"Sign Of The Times" was a rather bold choice for a first song to be released off his self-titled album Harry Styles because it starts with a rather eerie piano melody – almost like listeners are kind of being dragged away from the world and brought into this five minute ballad of emotion.
Most fans were not expecting it to be so emotional or as long, but, really, who is complaining? It was beautiful and majestic with the falsettos, piano and let's not forget those lovely high notes at the end of the song.
The next song that the fans heard was originally aired on SNL, which is titled "Ever Since New York." The song has a folky country vibe to it. Harry Styles was even decked out in plaid pants, white shirt and guitar slung over his shoulder.
The song, which fans have abbreviated to ESNY, is much more upbeat and may make listeners swing their hips side to side. It also might make them want to scream "tell me something I don't already know" along with him.
This song is repetitive because he repeats the chorus five times, but, at least, there is still a great guitar to distract fans from the repetition. He also showed some extreme note changes during his performance to make it more enjoyable and less, well, annoying.
The third and last song the fans heard before the album came out is the song "Carolina." He performed it on the Today show in New York. The song is fun, edgy and fans enjoy it a lot. It gave more of an insight into what the album was going to be like. Rather than "ESNY" and "Sign Of The Times", which are slower.
During the Today show performance,  Harry wore a pink suit and it caused a craze. The fans were cheering about him breaking gender roles. This craze was continued when he released the album which contained gender neutral lyrics.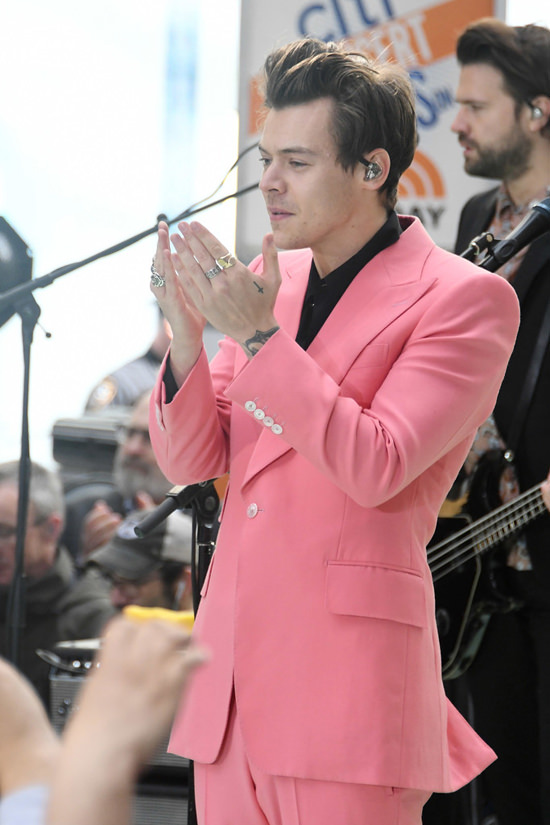 The pink suit doesn't have much to do with the lyrics or him being gender neutral, but the fans appreciate Styles mainly for that exact reason.
The album cover is of Harry's back in a pink bath with flowers in it; the promo pictures include him in water sitting on what looks like a hood of a car in a blue blazer with high waisted jeans to match. The suit was from a woman's apparel runway.
The album starts off with "Meet Me In The Hallway", the song was actually very shocking, giving you a Pink Floyd, psychedelic rock type of vibe.
The sad lyrics "I just left your bedroom, give me some morphine" will make listeners want to close the blinds and be alone.
"When I first heard it, I thought of Red Hot Chili Peppers. I think the song is trying to invoke nostalgia in listeners. It tells a story of a toxic relationship that he doesn't want to get out of because of his loyalty, overall the song is powerful," said Samantha Rodriguez, a fan from Naugatuck High School.
After "Meet Me In The Hallway" the tracks "Sign Of The Times" and "Carolina" play, but those songs do not prepare fans for the fourth song on the album, "Two Ghosts."
"Two Ghosts" is a soft acoustic sound which takes us on a personal trip, almost too personal listeners hate Styles for putting it on the album.
It is admitted that he did write the song three years ago while in One Direction, though the lack of gender pronouns and the fact it was written back then caused fans to talk and make theories of what the song was about.
They claim the song is about former band mate, Louis Tomlinson, and the theory that they are together. No love connection has been confirmed nor denied between the two but that doesn't stop fans from connecting the two together.
Asking fans why they think the song is so meaningful and about the two, the replies are quite long.
"He says 'same eyes blue, couple more tattoos' and they have matching tattoos, and Louis has blue eyes. Also, the song was written around the time they stopped communicating in public and Harry was dating Taylor Swift. Plus the lyrics 'I can't touch what I see' gives it away. Open your eyes and get out of denial," A fan on Instagram said about the song.
"Two Ghosts" twists with the fifth song on the album, "Sweet Creature" which fans also believe is about the love affair, but the song isn't really just a song. It is a beautiful piece of art. Honestly.
There are such heartwarming lyrics and the melody is a great tune on a guitar. There are truly no words to explain how much the song is actually touching to a soul.
It can get repetitive, but it is still so pure and full of affection for whoever it is written about.
Rodriguez says, "The song speaks so many volumes, even the title. I mean how could a creature be sweet? Then you realize that this person has a soft spot and it's beautiful."
The sappy stuff ends with "Only Angel", the biggest plot twist on the album. You are on a rollercoaster that is constantly moving up with 40 seconds of a piano melody, then it drops when a guitar decides to kick in and Harry's screams fans' ears.
"I was like 'wow this is going to be so sad' then he started screaming in my ear!" said Tia Owens.
It isn't the best song on the album; fans need to be in the mood for it so when it comes on shuffle fans just want to press the skip button without feeling badly about it.
Sorry Styles, listeners weren't that impressed.
After that song, then it is time to get your leather jackets, ripped skinny jeans, and combat boots. "Kiwi" is the 7th song on the album and fans are completely enjoying it the entire time.
It is impossible to listen to the song without moving your head or wanting to scream out the lyrics. The song may get you hot under the collar with the repetition of "I'm having your baby." Plus, it never gets annoying, listeners love it more and more each time.
The song is all around shady and he is obviously targeting someone very discreetly. At least he says it in a nice way.
"Kiwi" will never ever get old and it will always be that song that comes on and you have a good time to, and maybe fangirl just a little every time. It is kind of surreal when you think about how much his vocal range has progressed from the music of one direction to a song that is like "Kiwi."
Out of all songs on the album, "Woman" is the one that fans tend to favor over the others.
Petitions are online for Styles to have make a music video for the song, and twitter floods with video memes with the song playing.
The song has a cute opening that obviously melts the hearts of women. Styles sings,"Should we just search romantic comedies on Netflix and see what we find?"
Then comes in the instruments and Styles power vocals that listeners really can't resist singing along to.   
The song is very obvious about jealousy and wanting to be in somebody else's place. The meaning doesn't really matter to fans because whenever it comes on they're more focused on dancing to it than listening to the lyrics.
The last song on the album and a personal favorite is the purely raw and soul wrenching song,
"From The Dining Table."
The slowly played acoustic melody of the song drags out the emotion. The lyrics are, of course, intimate on such an emotional level it almost breaks listeners' hearts.
Styles pours his entire soul into the lyrical content.
The sadness takes away the actual importance of how much of himself he put into the song. "'From The Dining Table' is the most sentimental one for me,"  said Styles in a BBC 1 interview.
Listeners can see why; it opens up with talks of waking up alone, day drinking, depression and sleeping with somebody who looks like the person he is missing.
"I couldn't talk for a few minutes after listening to it. It makes you think of how much you can actually hurt a person and it mess you up in the long run. I had tears streaming down my face and I didn't even know why until I listened and sobbed for ten minutes. It is pure and even if you don't like Harry or want to listen to his music, they should give the song a chance," said Rodriguez.
So what is the verdict of the album overall?
The good of it is, the album is moving and is very different from his former career with One Direction. It gave fans a better look at what Harry Styles actually listens to and what he is going to bring in his solo career in the future. It was impressive and overall makes fans want to listen to it again and again just to make sure that it is a real album and not just a figure of their imagination.
The bad of it is –  out of the 70 songs that Styles wrote in Jamaica, he only chose ten and some of the songs had weak lyrics. He could improve on his songwriting skills. The selection of tracks could have been better. It makes the album not so much fun to listen at times because some songs fans need to be in the mood for.