Greyhounds off to best start since 2011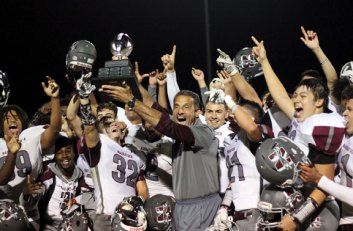 Hang on for a minute...we're trying to find some more stories you might like.
The Naugatuck Greyhounds are off to their best start since 2011. First year coach Dave Sollazzo has led the Hounds to a strong start through the first four games of the season, outscoring opponents 131-64.
The team got off to a good start with a 35-20 victory on the road over Derby. Zack Koslosky had a big game with an interception and two touchdown receptions.
Although Koslosky can make plays on both sides of the ball, his favorite position is wide receiver.
"I get to help Plasky and the team and I feel that's where I can make the most plays."
In week 2, the Greyhounds hosted Seymour for their home opener. Last year Naugy lost big to Seymour, 44-12, so the Greyhounds were hungry for revenge.
And revenge is exactly what they got. In the first quarter Jayden Anderson blocked a field goal and Elijah Robinson scooped it up and brought it to the house for the score and the Hounds didn't look back, finishing with a 31-12 victory.
Quarterback Mike Plasky said the biggest difference between this year's team and last year's is the mindset.
"We're a lot more focused and motivated, and that all starts with the coaches and what they bring to the table."
Week 3 the Greyhounds were back on the road in Torrington. It was the closest game the Hounds have played, but they were able to escape with a 30-26 victory.
The Greyhounds hit the road again in week 4; this time going to Beacon Falls to face Woodland for the George Pinho Trophy.
The Greyhounds got off to a slow start with a couple of turnovers on their first drives but they were able to take a 6-0 lead going into the half. Early in the 3rd quarter Plasky found Koslosky for a 20 yard touchdown pass, and the Hounds didn't look back. They finished with a 35-6 victory and for the 2nd straight year, took home the trophy.
When asked about Koslosky's play thus far Coach Sollazzo said he's been "tremendous" and even described Kos as a "war daddy."
"He just makes plays, he's a playmaker-he's a football player. The bottom line is he outworks the opponent."
The Greyhounds players and coaching staff are in agreement that the work they do on the practice field is a big factor come game night.
"We're focused mentally," said Plasky. "We come every day to practice trying to get better and on a day to day basis we're improving."
"It doesn't matter who you're playing," added Sollazzo, "you're opponent is yourself. You're only going to play well on Friday night if you practice well all week."
The Greyhounds continue their season Friday night at home against Wilby.