The Billboard Music Awards are an entertaining watch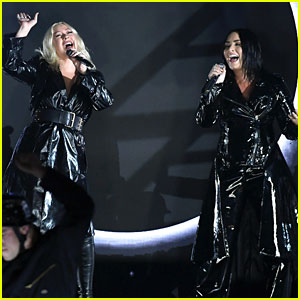 On May 20th the 29th Billboard Music Awards were held at the MGM Grand Garden Arena in Las Vegas. The show featured a plethora of stars including Shawn Mendes, Camila Cabello, and Taylor Swift and was hosted by singer-songwriter Kelly Clarkson.
It was also the first time the show was broadcasted on NBC.
Clarkson, before the show actually began, gave a short speech addressing the tragedies that have happened recently in high schools. She said that the Billboard team wanted her to have a moment of silence, which was not what she was all about. She wanted a "moment of action" and asked for everyone to make change now. She wanted the night to be about "celebrat[ing] and honoring them."
It was a interesting way to start up the show but necessary.
Opening the show was superstar Ariana Grande with her smash hit "No Tears Left to Cry." She delivered a stellar performance with high production and her superb vocals as always. Sprawled out atop large black umbrellas, this was the most fun performance of the night.
Grande also gave fans a hint to her next single, ¨The Light is Coming" which is expected to debut sometime next month.
Shortly after, Dua Lipa delivered a performance of her popular song, "New Rules" which included a giant hot pink flamingo and a high circular staircase. The performance was lacking vocals but was saved by the high production.
Some of the awards won included Khalid for Best New Artist, Camila Cabello for Billboard Chart Achievement Award, and Taylor Swift for Top Female Artist. Swift was the most awarded female of the night with two awards. In a male dominated industry, this was to be expected.
Shawn Mendes performed two of his singles from his highly anticipated self-titled third studio album. Standing amidst a field of glowing white flowers along with his guitar, he sang 'In My Blood'.
His second performance alongside new artist Khalid, singing 'Youth' was the most stripped down and emotional of the night. Some of the Parkland students from Florida sang as a choir alongside the two and gave the most impactful presence which moved the entire audience.
The most critically acclaimed performance of the night went to Christina Aguilera and Demi Lovato singing their bodacious duet "Falling in Line". They delivered an edgy and vulnerable performance as they are two of the greatest vocalists of our time as of right now.
Many other performers graced the BBMA's stage including Camila Cabello, BTS, and Janet Jackson who was accepting the honor of the "Icon" award. Jackson sang and danced just as sharp as she did twenty years ago, the award was truly well deserved.