Check out Journalism as your next elective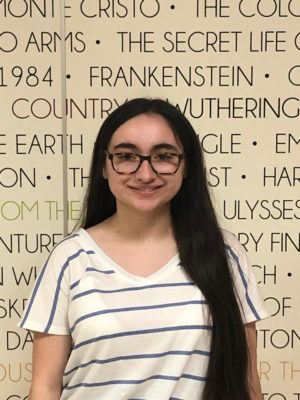 Naugatuck High School offers many astounding electives from culinary or art or chorus to ROTC, but an elective that is so underrated is journalism. For many, journalism can open your eyes to the world. It can give a voice to the voiceless and power to the powerless. 
 As you may ask yourself, what would journalism do for me? Or what makes journalism important? Journalism has so many beneficial qualities as it provides residents with the information they need to settle on the most ideal choices about their lives, their communities, their social orders, and their governments. You may not know the importance it holds but it is very significant to our everyday lives.
"I would explain (journalism) it as a way to discuss real life events in an effective manner. There is so much controversy and division in the country, and when you read an unbiased, factual article, it is a way to get all of the information that you need to be an informed, educated citizen," said Faith Arcuri, a current Journalism 3 student. 
Out of the thousands of reasons as to why you should enroll in journalism, there are, in my opinion, seven important reasons. Number one you will learn professionally, technically meaning for a living you get paid to learn. It will keep you occupied, and challenge you and gives you the means to develop yourself. It displays a more open employment and you will never get bored of it since it's not repetitive.
Number two you get the opportunity to work on different and intriguing projects. As it furnishes you with money to help yourself and investigate your interests. Throughout the process you will get to know and learn more about yourself.
Number three you work among energetic, educated individuals.  You fit in within your occupation environment. It contains such curiosity and enthusiasm within the occupation that connects one another. As everyone is open to learning and writing about new topics.
Number four you feel a solid feeling of passion and achievement within the field. This will give you a feeling of pride, character and individual accomplishment. It enhances your skills of writing and informing since you receive more and more experiences throughout time. There is such a wide variety of different types of journalism that you could find the job for you.
 Number five you will get the opportunity to travel. As you travel for work it will upgrade your creativity and it removes you from your customary range of familiarity. In addition it improves your relational abilities, expands your horizons, lifts your confidence, and provides you with new experiences.
Number six you will meet a ton of fascinating individuals. It empowers you to socialize, and assemble contact as well as discover support. You get to meet so many different people throughout your community and even the world. It's not an experience that everyone is available to have.
And number seven you become a specialist in your community. Having a feeling of the community joins us. Being a piece of a community can cause you to feel like you are a piece of something greater than yourself. It can give you occasions to interface with individuals, and to go after your objectives, all with the help of your community
In spite of the fact that it very well might be fascinating or in any event, engaging, the value of information journalism contains it is a utility to enable the educated. This gives you empowerment and you have the power to give so many individuals more knowledge. 
To be a journalist, there are 10 elements you need to possess and respect. Truth, reporting is the first commitment.  Loyalty, to all residents, not simply the affluent or proficient. Verification, the fundamental control of reporting .Independence, to evade commitment to a specific gathering or result. Watchdog,  to assemble data about bad behaviors of individuals in power and convey it to the general population. Forum, to be open to public analysis and compromise . Significance, by expounding on fascinating and applicable stories. And inclusiveness, by having the option to give variety of voices in media. 
The journalism teacher at Naugatuck High School , Mrs. Carolyne Dymond, has all of these traits and can guide her students to success. 
When surrounded by teachers and classmates who want the people around them to succeed. One gains such confidence in everything they're doing. And that is the environment Mrs. Dymond provides in her classroom! And joining a class like journalism that you may be unfamiliar with you are 100 percent guaranteed a passionate and uplifting environment. 
When I asked Mrs.Dymond what her number one favorite thing about journalism is she told me that it is "Watching my students find their voices, their passions and their writing abilities."
Journalism has a lot to offer to you and you may not even know it. You can write about your passions, subjects you may not know a lot about, or even anything at all! But through the way of it all you gain more knowledge and interests in a little bit of everything!
"Journalism has offered me a future career path. I had never thought that journalism was something that I would want to do in my life, but being in the class and discovering my passion for reporting has opened my eyes to my dream job," said Faith Arcuri.