Celebrating Women – Mari Copeny, a champion for clean water
This Women's History Month we are celebrating 13-year-old activist Amariyanna "Mari" Copeny, also known as Little Miss Flint.
Amariyanna was born on July 6, 2007 to her parents in Flint, Michigan.
At just 8 years old, Copeny wrote a letter to then-President Barack Obama in which she talked about the water crisis and even asked to meet him. "I know this is probably an odd request but I would love for a chance to meet you or your wife."
The Flint water crisis began in April of 2014 when the city switched its water supply to the Flint River in order to cut costs, which ended up bringing water containing dangerous levels of lead into the homes of its residents. 
Ex-director of Michigan's disease control and prevention, Corinne Miller was arrested in connection with the crisis that killed at least 12 due to an outbreak of Legionnaires disease. Miller was sentenced to 12 months probation, 300 hours of community service, and a $1,200 fine.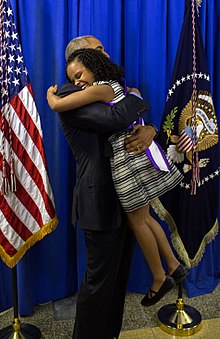 In reply to her letter, President Obama wrote, "That's why I want you to be the first to know that I'm coming to visit Flint on May 4th. I want to make sure that people like you and your family are receiving the help you need and deserve… I hope to meet you next week, Little Miss Flint. Sincerely, Barack Obama."
After his visit to Flint, the former president approved $100 million dollars in relief for Mari's hometown.
Though the water supply was switched back to Detroit in 2017, many residents are still worried that their water might be contaminated. 
Since meeting President Obama, Copeny has gone on to become a national youth ambassador for the Women's March on Washington, Equality for HER, and People's Climate March. 
Mari also works with Eighteen x 18, a movement created by mentor Yara Shahidi to encourage Generation Z to learn more about politics and cast their votes.
Not only was Copeny able to help her city raise awareness of the ongoing water crisis, but she has also been able to raise hundreds of thousands of dollars for various local causes.
Over $500,000 went to her own Flint Kids project which gave out more than 16,000 backpacks loaded with school supplies, $250,000 gave out over 1 million bottles of water, and another $400,000 to produce her own water filters in a partnership with the company Hydroviv that was previously seen on Shark Tank. 
Mari has been featured in numerous magazines and news sites for her activism including Teen Vogue, The Washington Post, TIME, NBC News, Refinery 29, and many more. 
As of January 2021, nine public officials including former Flint Governor Rick Snyder have been charged for their roles in the crisis and a federal judge has granted approval of a $641 million settlement to be awarded to residents affected.