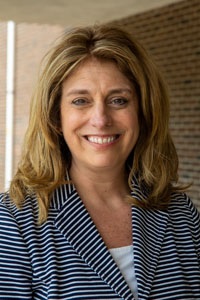 As the new school year begins, NHS welcomes many new students and staff to the building. As for the new associate principal, Mrs. Eileen Mezzo, Naugatuck High School was a familiar place, a home that was ready to welcome her back to the community to have a wonderful year.
Prior to this change Mezzo taught at one of the district's elementary schools, Andrew Ave in 1990 and then taught Special Education at City Hill Middle School for 12 years, before taking on the role of associate principal here at the high school in 2011. Although Mezzo enjoyed her position in the High School, she felt the need to have "her own place." Mezzo made the switch back to the middle school in 2015 as principal and remained there through the spring of 2023. Now, her friendly and familiar face has returned to Naugatuck High School as associate principal.
"I remembered my why and how much I really enjoyed working with high school students. There is just something so special about watching students from a young age, mature, and then graduate to pursue something that really speaks to their soul," said Mrs Mezzo in an interview with The Greyhound.
Mezzo graduated from Mount Saint Mary College in Newburgh, New York with a degree in English.
Although the Covid Pandemic stunted the closure Mezzo's Middle School class of 2020 received, Mezzo enjoys seeing the now senior class receive the closure and celebration they never received.
"Particularly I'm excited to be back to further connect to the senior class, whose middle school years were interrupted by Covid and finally create a connection with them. It's neat to see them all grown up now and ready to graduate," said Mezzo.
"Mrs. Mezzo made a great impact on me and a lot of other students because she is a very nice and dependable person to go to, so i'm very glad shes back at the high school." Said Sydney Connolly, a junior at Naugatuck High school.
As the associate principal of the high school, Mezzo is in charge of the Counseling Department and will be overseeing the Math, Science and some of the Applied Ed Departments. Additionally, she is in charge of intervention and responsible for attendance throughout the year.
Mezzo believes she is most excited this year to, "watch students find something that is exciting to them and then pursue their passions."
As a new associate principal, Mezzo wants to ensure that this year is successful for all. With additional administrative staff Mrs Mezzo wishes that no students slips between the cracks, hoping to offer just in time support to students needing assistance. The community here at NHS is glad to have Mrs. Mezzo back in the building and can't wait for the new school year.
"It's so nice to see Mrs. Mezzo here at the high school! It's comforting to see a familiar face," said Elizabeth Nixon, a junior at Naugatuck High school and a current Journalism 2 student.