NHS on the cell phone ban
Naugatuck High School is having its first school year with the new cell phone policy, and students who attend the school have mixed feelings about how this new policy will affect the way their school year will progress.
The idea of banning cell phones, in the year of 2018-2019, was brought up to the students and teachers of NHS in the spring of last year. It was then declared official in the early summer of last year, resulting in a lot of teachers growing with excitement for this policy while many students began facing feelings of fear and anxiety.
It has been five months since the new cell phone policy has been put in place at NHS and we have interviewed students and faculty to see what has changed with them and the cell phone policy.
Many students did not hesitate to express how they feel about the new cell phone policy, as one student stated, "I understand they shouldn't be allowed in the classroom, but I feel like in study halls, we should have them."
Most students that we had come across had basic answers to many of our questions, but the majority of students don't see a real change in them for the new cell phone policy, since they had already just followed the rules.
When we asked numerous students about if they actually see this policy being enforced by staff and faculty, many shared that it depended on the teacher. Some teachers are strict about it, though some of them seem to not care.
A surprising amount of students told us that they would rather stay with this new policy in place than the original. 71.9% of them have said no, they like the new policy, 21.7% said yes to wanting the old one back, and lastly, 4.3% are neutral on the topic.
Though many students do not want the old policy back, many have specified that the new policy has not benefited their learning experience in any way but, instead,  has hindered their learning quite a bit. Roughly 70% of the students we interviewed have replied that they do like the new phone policy.
Many students have clearly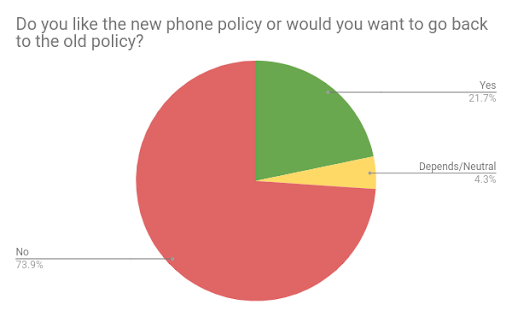 responded to this policy both negatively and positively,  though more positively than we could have ever expected. Though the optimism we have seen is great, we are all wondering, will the policy return next year, or will it be altered once again?

Students were very split on this topic; it was a perfect fifty fifty ordeal. This question was one of two that were hard for students. But it is still interesting to see that it is very split, and this time the answer wasn't so clear.
When I saw I was somewhat confused and surprised as students had just said before they didn't really care that they don't have their phones out everyday. But speculation tells that many students probably didn't understand the previous few questions. Or they just wanted the interview to end, 69.6% of the students and faculty find it a little troubling that they can't use their phone.
According to one student "The little things such as checking the time and just looking at notifications on your phone, it's just something you can't do it anymore," but this data could be seen as the 30.4% that said no understood most of the questions.
Students were almost half and half on getting used to the cell phone policy. The greater half got used to the phone policy very quickly while fewer than half of the students still couldn't leave
their phones behind.
Most students think that teachers all around the school are enforcing the new rule evenly among their students. This shows that mostly every student is getting the same discipline and across the school the new policy is being encouraged.
This data that we had collected concludes that the newly added cell phone policy is a mixed bag for most people who attend Naugatuck high school. And it's hard to see if anyone truly likes it or not. But it is very clear to see that in the school the cell phone policy is very effective in our school system here in Naugatuck high school.